Published on March 1, 2022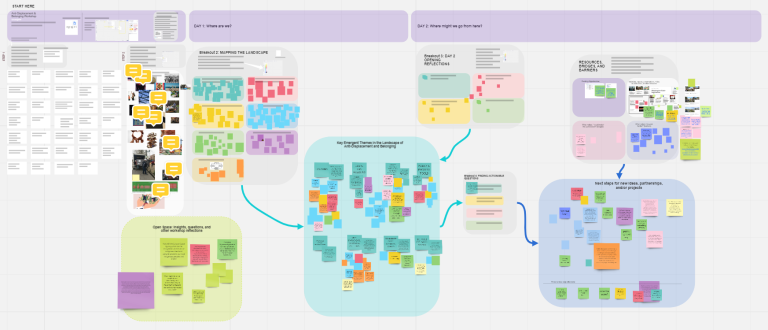 On January 25th and 26th, Urban@UW hosted a virtual workshop that brought together researchers, policymakers, practitioners, and community partners to elevate key perspectives and facilitate cross-boundary discussions and action around the capacity for people to stay in place and stay in the community in the face of displacement. 
The workshop built on discussions initiated by Urban@UW's 2019 convening, Sustaining Communities. With new leadership within the Urban@UW team, and a renewed excitement around understanding regional issues, Faculty Director Rachel Berney, and Director, Jen Davison, sought to bring together a wide swath of perspectives and disciplines to develop a collective understanding of the current challenges of anti-displacement and belonging. Moreover, the workshop aimed to connect regional scholars and community partners doing important work on these issues; foster new ideas and new collaborations; & share resources across this community of practice. 
Over 40 individuals attended the workshop from within and outside of the University of Washington. Attendees of the workshop included faculty, staff & graduate students from UW's Arts & Sciences, Public Health, Built Environments, Engineering & Nursing. Attendees outside of the UW community hailed from public agencies, NGOs & the private sector, across the Puget Sound region. Taking place virtually,  insights throughout the workshop were captured on a shared digital platform called Miro, a collaborative tool of engagement for community-driven work.
Leading up to the event, registrants shared with Urban@UW their goals for the workshop. These included networking, resource-sharing, and learning from and with each other. They also shared  interests in specific topics, which centered around racial justice, place-making, and community agency. The agenda sought to represent these collective hopes, and featured full-group facilitated discussions, small-group breakout sessions, and Ignite Talks: brief presentations intended to spark inspiration and discussion. Scholars and community partners were invited to share existing efforts through these Ignite Talks;  speakers included representatives from the Cultural Space Agency, Anti-Eviction Mapping Project, CACE21, The Nehemiah Initiative, The Community Land Conservancy, and others. 
The workshop first focused on a collective mapping of the landscape of anti-displacement work. The diversity of the group's perspectives fostered generative discussions around barriers and opportunities of growth for anti-displacement locally and beyond. As the workshop progressed, key themes emerged within the group's collective understanding of  anti-displacement and belonging. These themes included housing types & alternatives; the health and well-being of communities; capacity-building and opportunity for BIPOC communities and youth; policy and process tools; affordable, livable neighborhoods; the shifting paradigms & cultures around decision-making and capitalism; community place-making and agency; and equitable ecological systems. Participants were specifically invited to further explore  these topics through a lens of racial justice, and with an emphasis on opportunities for collaborative partnerships. Rounding out the two, half-day workshop, the group discussed key opportunities and barriers to research-to-practice collaborations on anti-displacement and belonging, with robust convrsation about everything from policy change to funding opportunities. 
Beyond the insights and robust discussions generated during the workshop, participants and the Urban@UW team came away with an appreciation for the diverse perspectives brought to the conversations, and the inspiring array of efforts happening at all scales across the region.
The workshop concluded with a brainstorming session on next steps. Many of the workshop participants indicated that they were interested in continuing the conversations initiated by the Anti-displacement & Belonging Workshop. Urban@UW is working on a plan to host such conversations.
Written by Leila Jackson for Urban@UW.