Published on October 28, 2021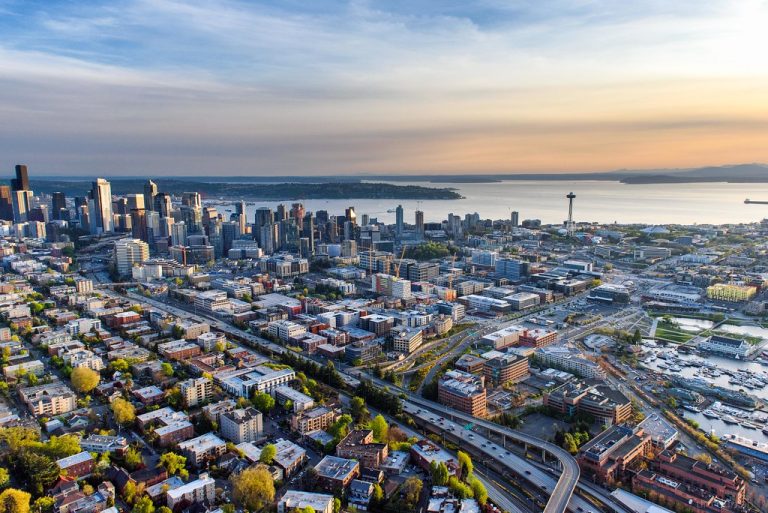 In cities across the Pacific Northwest and around the globe, the COVID-19 pandemic has shed new, harsh light on the preexisting societal conditions. Persistent problems such as systemic racism, homelessness, and extreme weather events driven by climate change have intersected with the pandemic in our urban spaces, resulting in deeply unequal impacts for underinvested communities and neighborhoods. Such challenges are not new, but their deepening effects beg for more innovative approaches to collectively caring for our communities and our environments. At the University of Washington, initiatives like Urban@UW are up for the task.
Urban@UW brings together academics, policymakers, and practitioners in all areas of urban life to tackle the complex problems facing urban environments. Created in 2015 by faculty from across the University of Washington and housed in the College of Built Environments, Urban@UW is led by newly selected Faculty Director Rachel Berney, associate professor of urban design and planning at the College of Built Environments, and Director Jen Davison. Now beginning its 6th year, Urban@UW continues to bridge disciplines, sectors, and perspectives as Berney and Davison plan the future of the initiative's work.
Berney has deep expertise in urban issues and a focus on transdisciplinary scholarship, both of which are key for leading Urban@UW into its next phase. A cornerstone of the efforts taking place at Urban@UW is research that seeks to foster sustainability and equity across urban communities and spaces. Berney's focus on equitable development at the community level is not only aligned with Urban@UW's mission, but is critically needed as researchers, policymakers, and community stakeholders all work to holistically design and steward vibrant and welcoming cities.
"What I'm most excited about in this new role is that through my work, I know that convening, capacity building, and supporting communities are the key, and Urban@UW is a perfect place to make this happen at a larger scale," Berney shares.
Urban@UW focuses on urban places as communities, as systems, and as an incredible lever for change toward inclusive health and wellbeing: concentrating resources, ideas and people in ways that have immense potential. Importantly, the Urban@UW model recognizes that research must be community-centered in order to realize robust impact. Those closest to the challenge are part of Urban@UW's research teams, topics, and approaches as they work to solve complex problems that cities house. And it's this transdisciplinary approach, one that crosses boundaries of disciplines, sectors, and other types of knowledge, that makes Urban@UW special. This approach is defined by efforts that span and integrate perspectives, moving beyond specific, siloed approaches to address a common problem. 
Continue reading at College of Built Environments.
Originally written by Jamilah Williams for the College of Built Environments.