Published on September 16, 2022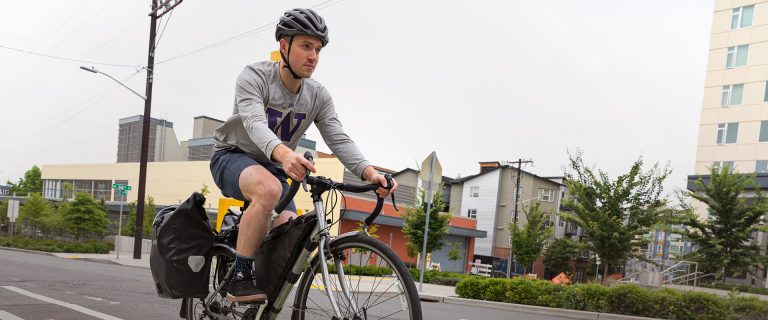 A class project quickly became a passion project for civil and environmental engineering Ph.D. student Dan McCabe. A cycling enthusiast, McCabe is working to optimize the delivery of groceries from food banks to people experiencing food insecurity — by bicycle.
To help streamline delivery operations for the Pedaling Relief Project (PRP), McCabe is developing technology to automate time-intensive route planning and create safer routes for volunteers on bikes, who are hauling cargo trailers or panniers stuffed with groceries.
Now in its second year, the PRP was founded during the early stages of the COVID-19 pandemic by Seattle's Cascade Bicycle Club to expand food bank delivery options and get groceries into the hands of people and families in need. The pandemic introduced a new segment of food-insecure people in the city, after many families lost their source of income. In addition, food banks had restricted operations and some regular customers, such as those with pre-existing health issues and senior citizens, were concerned about leaving their homes.
"There was more demand than ever for home delivery, which is a good candidate for bikes — it's challenging to find a place to park your car in a dense part of the city," says Maxwell Burton, PRP volunteer manager. "Big rides and events were also cancelled, so there was pent-up demand from cyclists who wanted to ride and also feel like they were helping out.
Originally written for the Department of Civil & Environmental Engineering.
Urban@UW is supporting a related project through our Research Spark Grant, learn more here.
Originally written by Brooke Fisher for the Department of Civil & Environmental Engineering.