Published on September 14, 2022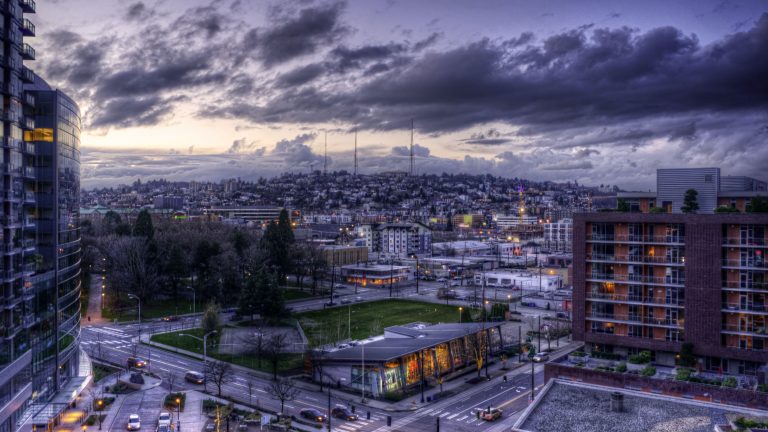 Urban@UW is excited to announce awardees for the third round of funding through our Spark Grants program. The three projects selected address critical urban challenges, with a focus on transdisciplinary scholarship and engagement with vulnerable populations.
Analysis of a Food Bank Home Delivery Program
Food security, defined as access at all times to nutritious food, is a necessary condition for human beings to thrive and have an active and healthy life. In Seattle, about 13 percent of adults experienced food insecurity. Moreover, food security is not equitably distributed across the population. Food insecurity is more common in households with young children, with single parents, with incomes below 185 percent of the poverty threshold, in Black and Hispanic populations, and in principal metropolitan areas. Hunger relief organizations, such as food banks, play a key role in redistributing food to those experiencing food insecurity. However, a share of the food insecure population could not be reached by this system. In particular, people with mobility issues, immunocompromised and elderly are not able to access the food bank network. The University District Food Bank, serving the northeast neighborhoods of Seattle, started a home delivery program 10 years ago, where volunteers pick up grocery at the food bank and deliver it to households in need, and largely expanded it during the pandemic. While volunteers were initially performing deliveries using cars or vans, the program was expanded through a collaboration with the Cascade Bicycle Club, a non-profit bike advocacy organization. (read about another aspect of this partnership in this recent UW Today story!)
For this work, the project team proposes a collaboration between young junior scholars at the Urban Freight Lab (UFL), a research lab housed at the Supply Chain Transportation and Logistics Center at the CEE with expertise in the study of last-mile urban distribution systems, the University District Food Bank, and the Cascade Bicycle Club. This grant will enable UFL researchers to perform preliminary research, to better understand the challenges in the last-mile distribution of food from food banks and identify operational improvements to increase the efficiency of the system.
Project Team Members:
Artificial Turf in Low-Income Neighborhoods: A Climate Resilient Urban Space?
In many low-income housing developments, designers, property owners, and city agencies opt to install artificial turf lawns in lieu of living lawns, because artificial turf is highly durable and requires minimal maintenance. Unfortunately, the social, economic, environmental, climate, and health impacts associated with production, installation, and use of artificial turf are largely unknown, particularly in the context of a warming and changing climate. The goal of this research is to fill this knowledge gap, generating unbiased information about artificial turf so that designers and community groups can make informed decisions about this material choice. The project team will accomplish this goal with a post-occupancy evaluation of existing turf installations within low-income housing developments in Seattle that quantifies the climate resiliency of the installations, defined as their ability to sequester carbon, use minimal water, provide stormwater capacity, facilitate cooler air temperatures, create refuge for wildlife, and sustain positive mental and physical health. This work will be conducted with guidance and input from project partners, which include Mithun, a design firm specializing in low-income developments, and community groups connected with Mithun that are focused on equitable and sustainable urban development. Deliverables will include an easily digestible report and visual guidelines that outline the benefits and impacts of artificial turf within low-income housing developments.
Project Team Members:
Toward Interactive Sonic Narrative Streetwear to Support Urban Community-Based Amplification of Space, Place, and Belonging
Streetwear—hats, hoodies, graphic tees, sneakers, and the like—is a style that was born in cities as a mode of storytelling and rebelling against the inaccessibility of formalwear. Having an intimate relationship and history with music, streetwear is largely based on Hip Hop and Punk music albums that tell stories. Yet streetwear does not technically connect to sound. Threading the two mediums together, however, presents opportunities to weave new ways of transmitting powerful lyrical messages. In interweaving textiles and songs to amplify marginalized voices, the project team proposes to investigate how connecting streetwear to interactive sonic narratives can heighten storytelling as well as motivate listening with the emotional captivation of music. With this grant, the team aims to expand community storytelling practices and build upon their prior work. To explore the potential for interactive sonic narrative garments to foster listening, the team will practice community-based design: a planned method of social change rooted within the social science tradition of community-based participatory research.
This project will explore how interactive sonic narrative streetwear can benefit and contribute to community knowledge as well as support asset-based community development. The team will also devise a plan to disseminate the media whether it is through a public art exhibition, merchandising, or other channels, and discuss design considerations around accessibility, language justice, and sustainability.
Project Team Members:
We are excited to learn with the research teams, and to share their progress with the community! Learn more about Urban@UW's Research Spark Grants program here.
Originally written for
Urban@UW.