Published on May 26, 2023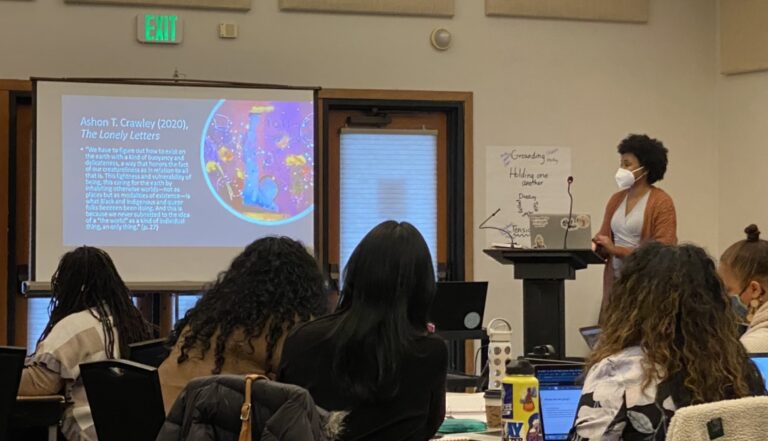 This is the third in a series of interviews from Urban@UW highlighting the research of urban scholars at the University of Washington. Urban@UW spoke to Dana Nickson, Assistant Professor in the School of Education at the University of Washington Seattle. The interview has been edited for length and clarity.

What do you do at the University of Washington? 
I am an assistant professor in the College of Education in the Educational Foundations, Leadership, and Policy area. And within that area of the College of Ed, I also teach in the Danforth Educational Leadership Program. I teach a class that focuses on how these aspiring principals and district leaders can partner with students, families, and community leaders to equitably serve them and honor their wisdom about what they desire for their children's education. I also teach in the Leadership for Learning program. I teach a class on leadership for equitable systems, so thinking about ways to forward equity and justice in school systems through partnering with families and communities, through strategic and values-focused leadership of policy decisions, and through continued learning on how context and politics of place affect students and families.
Can you talk a little bit about your research and what led you to that research?

In my dissertation, I was really interested in the out-migration of Black families from Detroit, and the growing number of Black students and families that were living in select suburbs of the city. This research grew from experiences with a community-based organization in Detroit organizing for education justice. In that space, I interacted and built relationships with families, and I noticed how many families were going across city-suburb divides looking for quality schools for their children. So for example, one mother would say, "I take my child to this charter school on the west side of Detroit. Then I go to Ferndale, a suburb of Detroit, and drop off another child for high school, and then I come back." So people were really navigating a regional educational landscape versus a neighborhood or municipal landscape, which is more typical. My research really tries to center what school choices Black families are making and how perception of place and their attachments to place play into how they're making these decisions across increasingly more regional education landscapes.
My research grows from my own experiences of geographic movement at an early age. When I was in my early elementary years, my family moved from a suburb of Houston that was predominantly Black and working class to Allen, Texas, which is a predominantly white suburb north of Dallas. My family moved to access labor and educational opportunities, but we were still rooted in Houston where we had many family members and larger networks of care. So in my own personal experiences, I've seen how suburbanization can occur for Black families with continued navigation and attachment to urban neighborhoods and spaces. In the context of urban education, I think our scope sometimes is off because many families are navigating more than just an urban school system. Many Black families are navigating urban and suburban school systems, and so my own experiences of having family in urban spaces and attending suburban schools, really led me to be interested in how we think of the places where Black people are educated and cared for.
What does education justice look like in the context that you're researching?

I think there's this kind of foundational need for resources, right? When giving their rationale for movement, families talked at length about accessing educational resources including a culturally responsive curriculum, a range of extracurricular activities, and settings where there was some racial diversity. So I think, again, part of it is just a resource allocation issue. Urban schools, predominantly Black urban schools, are underfunded compared to many suburban school systems, and so there needs to be better consideration by state policymakers around how we are funding schools. Are we giving folks the resources they need, especially in a setting like Detroit that has battled with significant population loss? What does it look like to create policies that don't disproportionately harm places that are already suffering because of past policy decisions and economic change?
And then on another level, education justice, to me, means that families and students, especially those that have been historically harmed and marginalized are able to have a substantive and collaborative role in shaping what they deem to be a quality education. In my research talking to Black families, they have these rich desires and dreams for the education of their children, for how they want their communities to look. And I think if that's not valued and part of the decision-making processes at every level of education, whether it be a local school, a school district, or state policy, I don't think we're going to get towards the justice that communities want.
What are some of the challenges that came up while you were doing this research and what are some exciting opportunities or sources of optimism that you found? 
In terms of challenges, I talk about "Black families" but there are socioeconomic differences between Black families, you know, folks hold multiple identities. And so in my work, something I am always struggling with is how do I draw out the nuances in how these Black families were impacted by urban divestment and also have different privileges compared to other Black families?
Another challenge on a structural level is that I really think for us to get towards education justice, school districts have to communicate across different zones, across different system boundaries. If we are just thinking about the people in our neighborhood or the people in our system, we're going to continue to see people moving. We're going to continue to see the haves and have-nots. What does it look like to work together to think about how we effectively serve these students across different boundaries and borders? But because of the way planning works, because of the way school systems are designed, that type of coordination is very difficult.
One of the pieces of hope that comes from my work is that, when Black families move, I think they have different perceptions of place that help us to think about what is keeping us from holistically addressing the resources and the educational services that all students deserve and need. The families often can have a regional approach to how they're thinking about what they're doing, like, "we're in the suburban school to get this curriculum that they have, but we're also in the city to draw on these cultural resources," and that could be after school programs, churches, places of communal learning with family members.
Families themselves can model different ways to think about how we work across different municipalities, different school systems, if we would only listen and partner with them and be open to destabilizing some of the status quo ways communities and school systems have been set up.
One thing I like to underscore is that Black families' have long traditions of  educational agency and advocacy, but it's so laborious. This shouldn't be what they have to do. This is time, money, gas, all these things and going back to the socioeconomic piece, not all families are going to have the resources to be able to traverse a metropolitan region in that way.
You've talked about the community work that you've done. Can you describe what your partnership network looks like for your research?
For my dissertation work, my main partners were the Black families that I was in conversation with to learn about their lived experience and how they were experiencing out-migration and suburbanization from Detroit in their search for quality schooling. Along with the families, there were a lot of Black educators that played a crucial role in my ability to understand these larger sociopolitical dynamics that were happening and also to connect with families. I feel like a lot of Black educators in suburban contexts are playing these bridge roles, where they're helping families navigate and making suburban schools and communities way more hospitable for people who are trying to find quality schooling.
Currently, I am working with a research community practice partnership with Seattle Public Schools and community organizations including WA-BLOC and the National Black Child Development Institute of Seattle. We are preparing to do codesign work with Black families to support joyful and expansive literacy learning of Black boys in Seattle Public Schools. Families have a lot of home and community-based knowledges that are not valued in school, so this codesign work around joyful literacy learning for Black boys with families seeks to shift students' learning experiences. At a more systemic level we're also studying how families, educators and educational leaders partner and how we create a system where Black families are listened to and their leadership is invited to the table.
How has your research informed what you're teaching or how you're teaching it?
I think in all of my classes, even if they don't directly deal with place, I have some angle to get folks to think about the longer histories of how places have been formed, the policy histories of places. I want folks to see that, yes, places have been formed through different histories of harm and violence, but that there are also just as long histories of agency, of organizing, of attachments to place that have sustained families and communities in different ways. So that is an angle that I think my students are going to take away from the class.
And I come from a Black studies background, and so I'm also thinking, as we work to understand the complexities of Black experiences and to make visible Black agency and resilience and resistance, what are different things I can bring in to highlight that, how can I make that visual for my students? How can I invite them to also engage in their own kind of imagining and map-making processes that destabilize these dominant ways we have come to think about place?
My friends who come from non-planning backgrounds like to make fun of me that I relate everything back to the built environment, regardless of what the issue is. But I think if you look closely at just about anything, "place" is there.
Everywhere, everywhere, anything. I think sometimes my students are like, "why are we talking about place so much?" and I'm like, "it matters. We'll get there, trust me."
One thing in thinking about Black families' perception or sense of place and how that plays into their educational agency, is that we have to understand the multigenerational experiences of Black folks. To really understand Black families' educational hopes and desires and how they view opportunity, I think it's important to understand what has happened in the past for this family. One piece that I always bring up in my teaching is how Black folks are a people on the move, with long histories of internal and international migration, and also how different Black communities remain place-bound and deeply attached to certain neighborhoods and communities. We have to think in a multigenerational way. If we don't tend to history, I don't think we're going to get more substantive solutions to challenges in school systems and communities.
If you could give an aspiring urban scholar any piece of advice, what would it be? 
I would say to talk with longtime community residents, talk with different community elders, talk with educators, talk to the woman who's had a business on this corner for 20 years. Just taking the time to sit with folks, and to hear their stories, and to laugh with them and, you know, talk with them about the research, but also just talk with them about random things. It is hard for people to talk about change and different harms that have happened to them or people they love, so that relational piece has been something that I'm continuing to lean into as I engage in these spaces as a researcher and just as a human being.
What is something coming up that you're excited for?
I mean the obvious thing–I feel like this is what everyone is saying–the summer. I mean, we're at the end of the quarter.
I center Black families in my research because I love my family so much, the family I grew up with and my chosen family. The summer gives me time to go see folks in Texas, and I'm planning to make it back to Detroit this summer too. I'm looking forward to seeing people, spending time, and sharing meals and laughter.
Originally written by Logan Bridge, Urban@UW Communications Assistant.