Published on July 17, 2016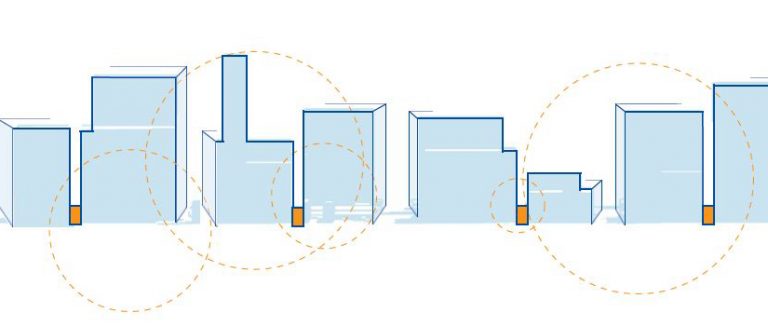 Alleys have long been seen as places of both delight and terror. These urban spaces have a cultural history built around them much the way train and subway stations, markets, or parks do. But alleys have an encompassing spectrum of associations: home to magical night markets as well as our most sinister fears. However, the more nightmarish invocations of alleys are increasingly waning as cities re-approach the purposes of alleys.
Historically, the much slower pace of expansion in older cities often meant much more deliberate design for the movement needs of humans. The lack of formalized infrastructural needs typically demanded of modern alleyways allowed for an eclectic and varied approach to alleys in many cities.
Our transportation systems have a great deal of efficiency and carrying capacity attached to them. American urban fabrics grew at such an accelerated pace that the purposes of road infrastructure were highly structured around the movement of goods.
Roads expanded, highways became integral, sidewalks shrunk, and alleys became critical arteries. Tiny lifelines shuttling goods in and out of stores, facilitating waste transportation, and maintaining clean organized facades for the front of buildings. The efficiency of this network's hierarchy is deeply embedded in the grid system informing the structure of most American cities.
Interestingly, massive growth has revitalized the importance of a city's smallest spaces, alleys. These small corridors account for a substantial amount of potential public space. Many cities, from Pueblo. Colorado to Chicago, Illiinois have dedicated substantial resources to the activation of alleys.
Baltimore has turned to art and garbage removal. Pueblo has looked to local business. Los Angeles and Chicago have both made extensive efforts to green their alleys for stormwater infrastructure. The power and possibility of alleyway revitalization has been taken up by an impressive number of American cities.
The exploration of alleys is often deemed an essential part of getting to know a city. A trip to an English city, a walk around a Finnish wooden alleyway, or an exploration of Dubrovnik side streets are powerful experiences. The gravity of these experiences is derived by a certain honesty that alleyways exude—they are often true to the particular function and needs of the people that inhabit them.
Many consider San Francisco to be the gold standard in alleyway rejuvenation, however beginning in 2008 Seattle has undergone a surge of successful alley rejuvenation projects. While we may not have the antique charm of an Elfreth's Alley in Philadelphia or North End of Boston, we have our own storied spaces, of which the evocative Gum Wall is but one powerful, albeit divisive, example.
Seattle's alleyway rejuvenation has seen a multitude of different agencies participate. Influential private practices like Olson Kundig or Gehl Architects have worked with local designers like Daniel Toole and the International Sustainability Institute (ISI) and Seattle Department of Neighborhoods as well as the Green Futures Lab have contributed funding and research.
Some the city's first successes were in the Pioneer Square neighborhood where ISI set up shop and kicked off the Nord Alley party in 2008. In 2013 ISI began the Alley Network Project which is currently working on projects in Pioneer Square and Canton Alley was home to a book signing for Bob Santos's new book "Gang of Four."
From the rainy evening that drew people to Nord Alley in 2008, to bustling celebrations and World Cup viewings Seattle has embraced the space between buildings. Their success makes clear that alleys don't have to be grimy corridors; but can be intimate spaces where civic activity, small businesses, and ecological services can be arranged away from the rush of traffic and at an intimate scale often unavailable to big downtown avenues.
A 2011 report by Mary Fialko and Jennifer Hampton, former CBE graduate students, calculated that alleys could offer as much as 50% more public space across the city, and that within the downtown area nearly 5 acres' worth of land was comprised of alleys with only 15% of space being utilized. These figures are slowly changing and will potentially continue to as the city increasingly aims to develop ways to make public space more available.
As opposed to the large courts often replacing side streets and alleys in many of the city's large construction projects, existing alleyways are typically not privately owned and offer vital space and transportation alternatives for citizens.
As Fialko and Hampton's report points out, alley rejuvenation doesn't have to mean complicated construction projects. Instead simple adjustments like signage, lighting, seating, and opening storefronts or holding events can significantly improve alley environments. These charming, alluring, and unique spaces offer an array of possibilities for changing urban fabrics and civic needs.
Written by Andrew Prindle, Urban@UW Communications Coordinator