Published on May 22, 2021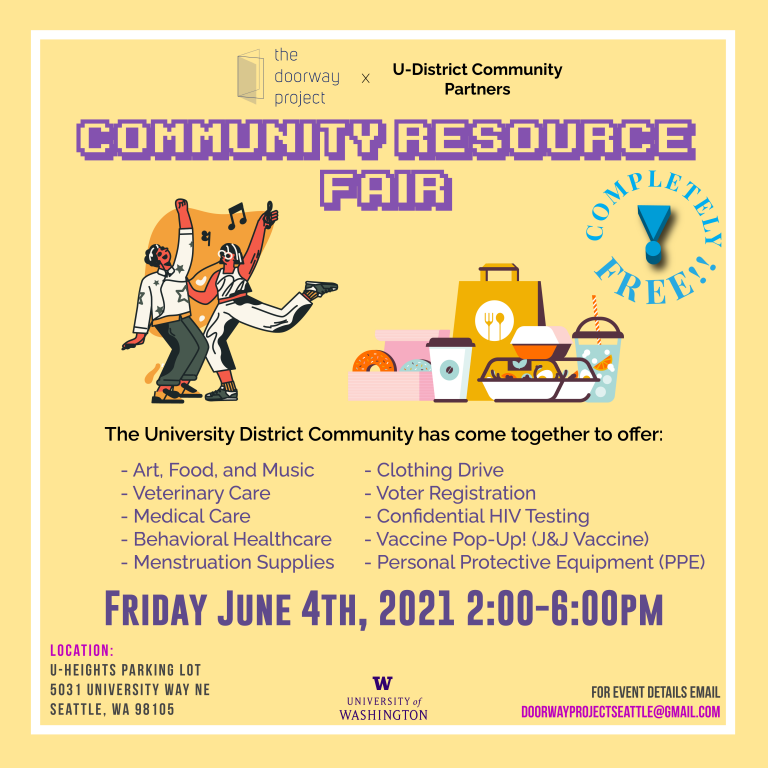 The Doorway Project is a University of Washington and YouthCare-led initiative focusing on addressing youth homelessness in the University District through continuous community-engaged collaboration with U-District service providers and community members. They are currently in Phase 1 of a four-year plan, developed through the lens of the project's legislative intent. The primary aim of the current phase of The Doorway Project is to center the voices of youth and young adults in the U-District who are experiencing homelessness in order to co-develop and evaluate a comprehensive and effective model that reduces youth homelessness and improves the quality of life for all affected. The Doorway Project's faculty director Seema Clifasefi is an Associate Professor and Co-Director of the Harm Research and Treatment Center in the Department of Psychiatry and Behavioral Sciences.
In collaboration with U-District Community Partners, The Doorway Project is hosting a Community Resource Fair on Friday, June 4th, 2021 from 2:00-6:00 pm. The Community Resource Fair will offer free art, food, music, veterinary care, medical care, behavioral healthcare, menstruation supplies, a clothing drive, voter registration, confidential HIV testing, a vaccine pop-up (J&J Vaccine), and personal protective equipment (PPE). This event will be held at the U-Heights Parking Lot (5031 University Way NE Seattle, WA 98105). E-mail doorwayprojectseattle@gmail.com for more details.
Learn more about The Doorway Project here.