Published on October 21, 2020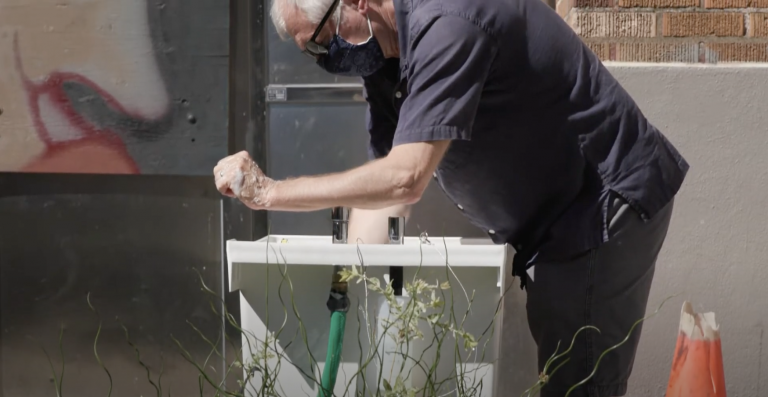 A sink is nestled in the University District alley between 15th Avenue Northeast and The Ave. It's bolted to a trough of plants. It appeared in May.
Another sink just like it is up The Ave on 47th Avenue Northeast. One was also placed at the University Heights community center along 50th Avenue Northeast.
The first sink is perfectly positioned for shelter-goers at the Roots Young Adult Shelter to wash their hands. Many have also been using the deep-tubbed sink to rinse their clothes. The one on The Ave is right next to Teen Feed, an organization that provides meal support for homeless youth.
These are the first sinks from the Seattle Street Sink program, a grassroots tactical urbanism effort to give homeless people more places to wash their hands and to access water. The program could grow, if the Seattle City Council chooses to fund it.
The sinks were born out of Tiffani McCoy's frustration with the city. McCoy, the lead organizer for Real Change, has been fighting to solve Seattle's public restroom deficiency. She thought she'd won that fight last year when she successfully advocated for a $1.3 million budget item to add a system of mobile pitstops across Seattle (the "Everybody Poos" program). Except, months after that decision, the city still hadn't acquired any pitstops. And then COVID-19 hit.
Libraries, businesses, and parks supplement the six 24-hour restrooms that Seattle's homeless rely on, but those places closed in the wake of COVID. Seattle fumbled its early response to the problem, as PubliCola documented, and so McCoy decided to take matters into her own hands. She emailed the American Institute of Architects to see if someone could help her find a solution.
A team of professors from the University of Washington College of Built Environments, Elizabeth Golden, Jeff Hou, and Rick Mohler; a Seattle architect; McCoy; and a middle schooler from Bellevue—now known as the Clean Hands Collective—came up with the design for the street sink, a do-it-yourself sink design that could be placed anywhere in the city.
Continue reading at The Stranger.
Originally written by
Nathalie Graham
for
The Stranger
.