Published on May 29, 2019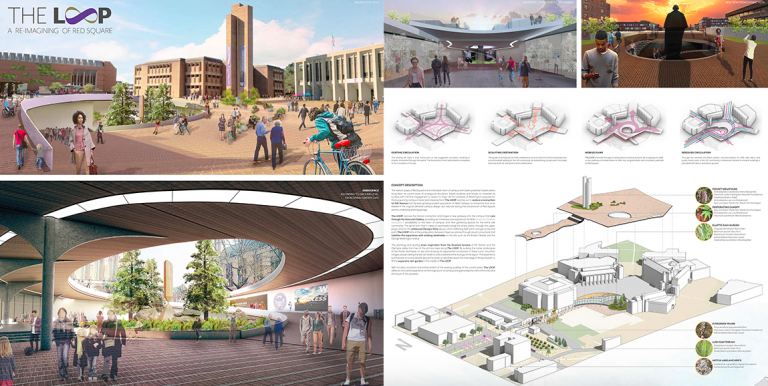 A team of UW Architecture and Landscape Architecture seniors has won this year's Re-Imagining Red Square competition. The designers of the "The Loop" originally were looking at how to preserve Red Square and do some intervention underneath in the garage. Then, one of the architects helping critique the designs in the contest gave the team advice on what they should do to achieve their underground goal without sacrificing the integrity of the surface. They started to look at how they could boldly and elegantly combine the surface level and underground area to produce an entirely new structure while maintaining the space for everyone.
Red Square is not currently set to be redesigned, but this project might open the door to that in the future.
"Getting the students involved was really about opening up the exploration, our imaginations, of what could happen," Renée Cheng, dean of the College of Built Environments, said. "It was really great to have this opportunity to say, 'let's really imagine what a historical space might mean for a future campus in a contemporary way.'"
The judges focused their decision making on four questions: What was the primary role of Red Square on campus and what would it look like re-imagined? How could a contemporary look on the space connect to the broader university neighborhood? How did the design interact with the performance, ecology, and sustainability? How did the contemporary interpret the historical aspect, and what does it say about the future of the space?
Continue reading at The Daily.
Originally written by