Published on September 26, 2019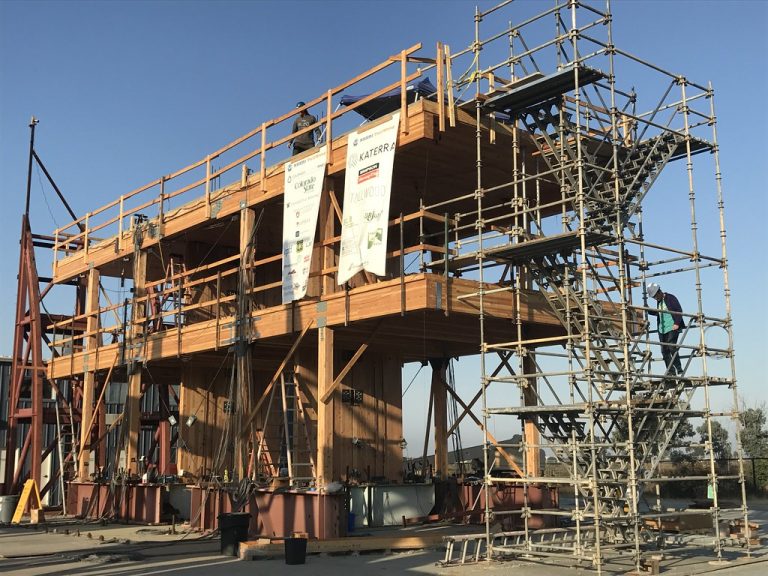 The loggers who worked in Ballard when it was Shingletown, a center of the national timber industry, are long gone. And only a few wooden landmarks of the timber heyday, mostly churches, still exist on Ballard's low-slung skyline.
But as concerns over climate change give new life to wooden building design, that could change.
In the coming years, Ballard will be home to Seattle's first tall building built almost entirely from wood. Rising eight stories from the current Ballard Blossom florist on Market Street will be a hotel built principally from cross-laminated timber, or CLT — durable panels made from binding layers of wooden planks with adhesive.
Cross-laminated timber is touted as an environmentally sustainable alternative to concrete and steel, which generate large quantities of greenhouse gases in their production. Loggers and environmentalists alike say that building with cross-laminated timber needs to be one part of the response to climate change.
The huge environmental benefits of cross-laminated timber are its biggest draw: Construction on a cross-laminated timber high-rise emits roughly 25% less carbon dioxide than if the high-rise were concrete, according to a University of Washington study.
"When we take the wood out of the forest, we are planting new forest and sequestering new carbon," said Indroneil Ganguly, associate professor at the UW's School of Environmental and Forest Sciences and one of the authors of the study. Building with timber, he said, is "almost like multiplying the acres of forest."
Continue reading at the Seattle Times.
Originally written by 
Katherine Khashimova Long
 for the
Seattle Times
.