Published on July 27, 2021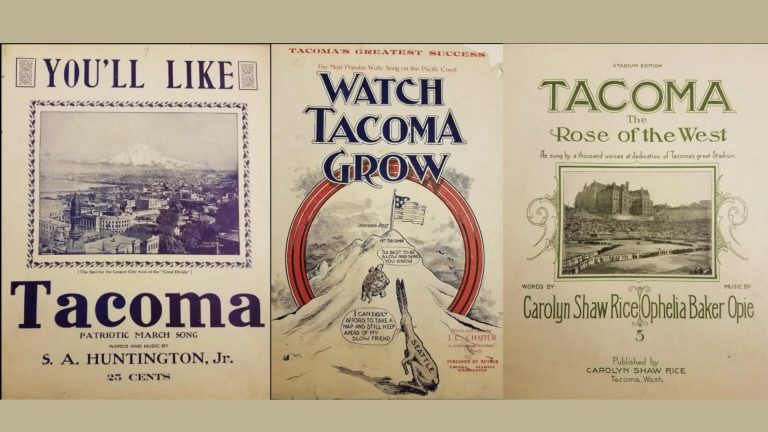 With some 20,000 people in the newly opened stands of Tacoma's Stadium Bowl, the city's elementary students broke into song — and a number specifically written for the occasion.
The chorus was prideful and catchy — at least by 1910 standards — describing the City of Destiny as "Tacoma, The Rose of the West," which we'll just have to trust was more of an ear worm back then than it seems today.
Composed by a local school teacher, it was penned at a time when civic aspirations often mingled with popular culture and the robust music publishing business, which remained the surest way to bring music into people's homes. There were no mixtapes or Spotify channels or promotional downloads in the early 1900s; just sheet music for people to read and perform in their living rooms.
According to local historian Kim Davenport, "Tacoma, Rose of the West" was one of many booster songs written during a roughly 30-year period between 1890 and 1920 in the City of Destiny, most of them intended to sell Tacoma to the world. Other popular jingles included the 1899 instrumental march "Salute to Tacoma," the 1906 tune "Watch Tacoma Grow" — which was the first to put Tacoma's rivalry with Seattle into music — and 1919's "Tacoma: We're Proud of You", written by an organist at the Rialto Theater for the Northwest Peace Jubilee that year.
More than a century later, Davenport believes these songs help to bring to life a specific chapter in Tacoma's history, and they're only one part of a much larger tale. From the sheet music distributed during Stadium Bowl's opening festivities to the early garage rock bands that would go on to greatly influence the Pacific Northwest punk and grunge years, the story of music in Tacoma — in many ways — mirrors the story of the city itself in its grand aspirations and do-it-yourself ethos.
Originally written by 
Matt Driscoll
for the
News Tribune.