Published on August 20, 2020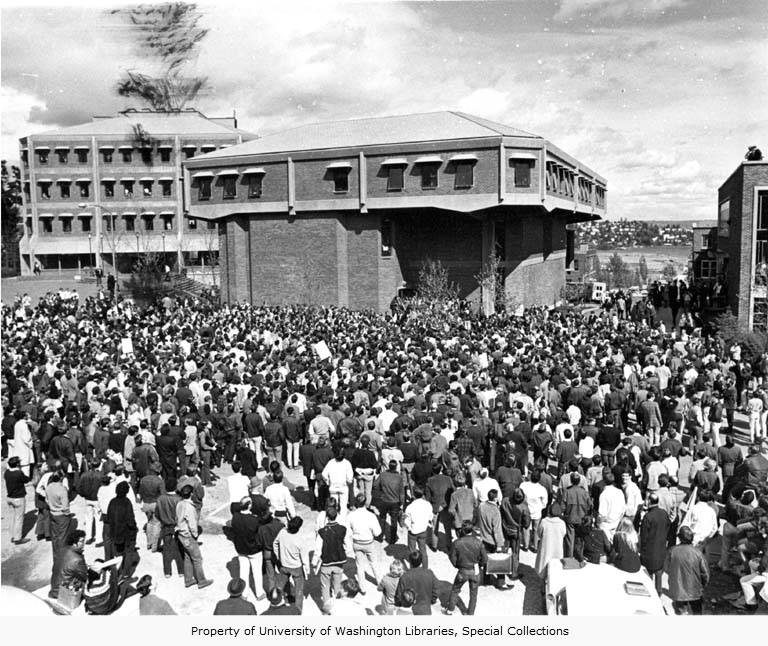 For the last few months, Abbey Maynard, Student Reference Assistant and Visual Materials Student Assistant at the UW Libraries Special Collections, has been working on creating a new digital exhibit: We Are All The Conspiracy: The Day After Protest, Seattle 7, and Community Activism in 1970s Seattle, featuring material about the Seattle Liberation Front (SLF), a political group founded on the University of Washington's campus in January 1970. Seven members of SLF were indicted by federal courts for their alleged role in conspiracy to incite a riot at The Day After protest (TDA) at the Federal Courthouse in Seattle.
COVID-19 and #BlackLivesMatter both helped shape the digital exhibit into a resource far beyond the original vision. A digital platform provided a more dynamic and accessible environment than would have been possible with a small display inside the Libraries. Preparing these materials while experiencing protests in our community and around the world, emphasized the critical need to document these activities and to continue to highlight collections that speak to revolutionary Black history to ensure adequate representation of historically underrepresented voices.
We Are All the Conspiracy uses a narrative approach accompanied with digitized images and flyers to walk viewers through the history of the Seattle Liberation Front. Images featured in the exhibit are from the Vietnam War Era Ephemera Collection, the Joe Karpen Photograph Collection, and the newly-acquired Grant Haller Photograph Collection.
We Are All the Conspiracy features a section called "Reflections on the Seattle 7 Today". This section includes an acknowledgement of the similarities between activism in the 1970s and today, while recognizing that there are also crucial differences in identity and power, too: "This similarity is not an equivocation – the Murder of George Floyd and its resulting demonstrations are entirely different from the trial of seven white people in Seattle in 1970… However, they are both inseparably connected to the same mortal wounds in American culture and society – racism, white supremacy, imperialism, and state-sanctioned violence against political dissenters".
Continue reading at the UW Libraries blog.
Originally written by 
Abbey Maynard
, Student Reference Assistant and Visual Materials Student Assistant,
UW Libraries Special Collections
.