Published on February 13, 2021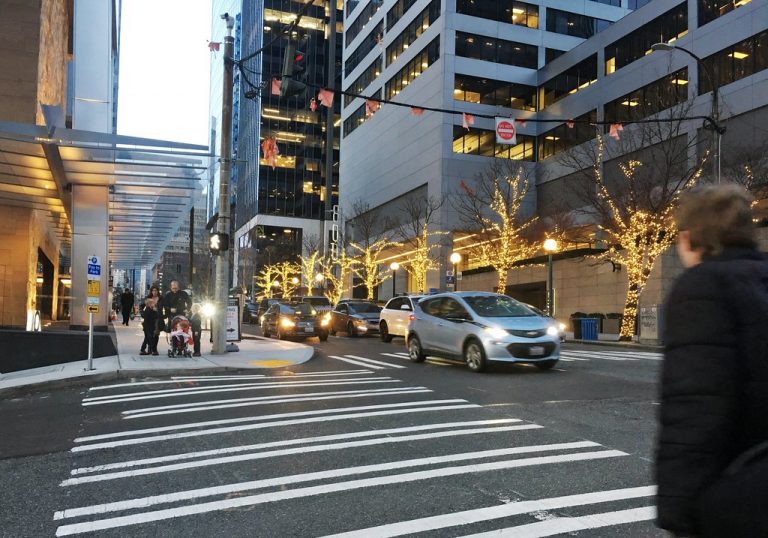 On a rainy, foggy night in Seattle, an incident in a crosswalk changed the path that Janie Bube was on.
A University of Washington student at the time, Bube was walking near the Burke-Gilman Trail when she was hit by a bicyclist in December 2018. Nobody was hurt, but Bube was rattled enough to immediately begin considering why she wasn't visible enough, how serious it could have been and how the problem could be solved.
Two years later, she's the founder and CEO of a startup called Sensol Systems that hopes to change the way people cross the street. Sensol is creating a crosswalk that illuminates from below as a pedestrian walks across it, with lighted panels in the street that keep in step with the person who is crossing (see rendering in video below).
Bube started with a bit of market research — even though she didn't know that's what it was called at the time.
"I asked around and realized that actually quite a few people have had collision experiences or near misses, either as bikes, as pedestrians, or as cars," Bube said. The Governors Highway Safety Association reported 6,590 pedestrian fatalities in the U.S. in 2019.
After completing the Jones + Foster Accelerator Program through the UW's Foster School of Business, Sensol launched as a startup in the spring of 2020. Now a UW graduate with a certificate in entrepreneurship, Bube is still in a continuing education program in project management. Her leadership team is made up of four current UW students.
Bube's mission was further informed by a six-month urban design internship she did with the Seattle Department of Transportation.
"I realized that the traffic system is really broken and it's not just from looking at cars as a problem. It's the entire system," she said. "When I experienced that personally that really just was an instigator for me."
The Sensol crosswalk goes beyond existing infrastructure, such as stripes on the pavement or flashing lights overhead. Modular panels are embedded in a steel frame that is installed on top of asphalt. LEDs light up when a person steps onto the hardware and pressure sensors help create the radius of illumination as the person moves.
Continue reading at GeekWire. 
Originally written by
Kurt Schlosser
for
GeekWire.