Published on July 14, 2020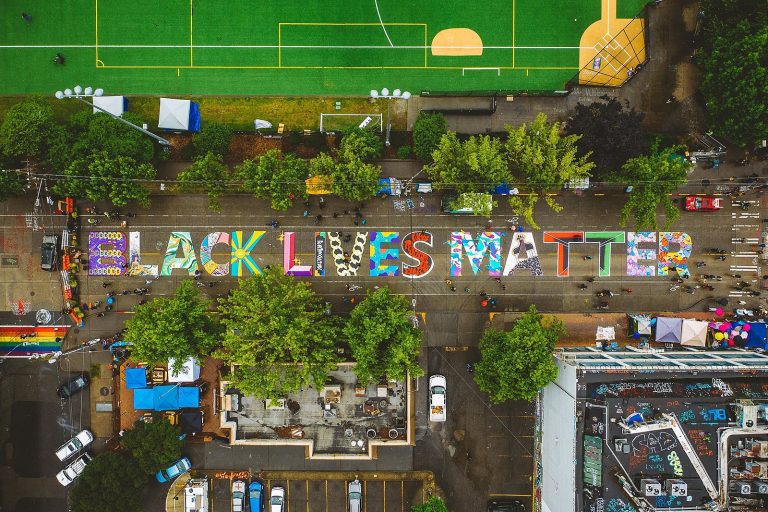 In Seattle's Capitol Hill neighborhood, a three-eyed alien is currently offering free hugs in an alcove of Broadway Market. Less than two miles away, a giant pink sloth tells Pioneer Square passersby to "hang in there." It's not just creatures populating the plywood covering so many Seattle businesses. Starry skies, cotton candy clouds, many gardens' worth of flowers and giant dumplings also adorn empty storefronts, along with colorful slogans imploring a cooped-up audience to be kind, spend local, stay home, "call yer mom." Also memorialized on plywood: colorful serigraphs of George Floyd's face, black-and-white portraits of Breonna Taylor and letters exclaiming loud and clear that Black Lives Matter. Museums, galleries and theaters may be closed, but art is everywhere.
As local stores and restaurants get ready to reopen, art lovers, historians, businesses and museums are trying to answer a question trickier than it may seem: When the plywood comes down, where will the murals go?
Kyana Wheeler, Strategic Development Specialist for the City of Seattle's Race and Social Justice Initiative and affiliate faculty in the Museology Master of Arts program at the University of Washington, was also part of that first discussion. To Wheeler, the conundrum around the CHOP art represents a microcosm of larger discussions on the future of museums. That's why she's thinking of assigning a case study in class next year on what to do with the art of CHOP as a way to ask questions about art and protest, power and ownership.
"That's the bigger picture," she says. "How are we valuing some things over people? How are we valuing some folks over others? None of these things are separate from each other. We should be asking as many hard questions as possible."
Continue reading at Crosscut.
Originally written by 
Margo Vansynghel
 for
Crosscut.