Published on December 20, 2016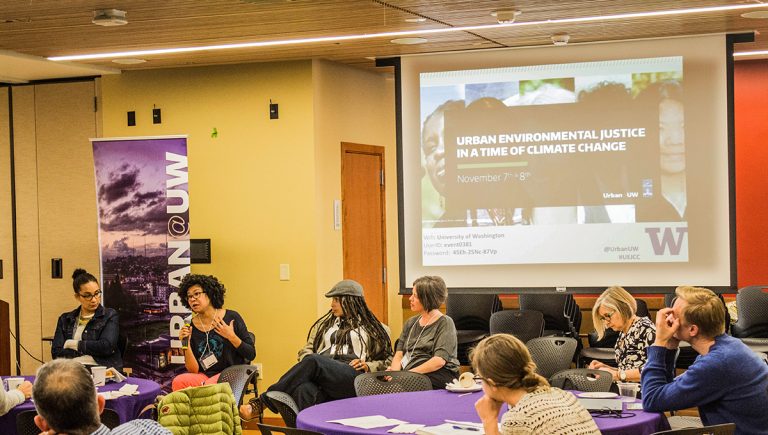 On November 7th and 8th Urban@UW, in collaboration with the University of Washington's Climate Impacts Group (CIG), hosted a symposium to begin transdisciplinary conversation on the multifaceted dynamics and consequences of Urban Environmental Justice in a Time of Climate Change (UEJ). Below are some reflections from this event, and a sample of the resources we'll be sharing from our time together.
Urban environmental justice has been impacting cities for centuries, if not millennia, where unequal power distribution creates disparate living conditions that typically fall along racial, ethnic, and class lines. Climate change is expected to accelerate already existing injustices in vulnerable communities. Flooding islands and coastlines, drought conditions, erosion, aridity, and soil loss are already impacting multitudes of marginalized as well as traditionally subsistence and agricultural communities.
Jacqui Patterson, Director of the NAACP Environmental and Climate Justice Program, argued during her Walker-Ames lecture that these communities are the proverbial canaries in the coal mine, but that impacts will not be isolated to such communities. Rather, given time and continued inaction, people of all races and classes will invariably experience the hardships wrought by the adverse conditions of climate change.
Given the scale of impacts of these challenges, a major goal of the UEJ symposium was to gather community leaders, academics, and the public to begin learning from each other on the topic of urban environmental justice: what are you studying, what are you finding, what's working and what's not, what partnerships could be made? Perhaps most critically, how does academia engage with communities and institutions in a way that is not only respectful, but collaborative and community-driven?
While academics have been working on environmental justice issues for decades, this work too often tends to operate within the confines of the academy and overlooks stakeholder input. Speakers at the UEJ symposium, experts in this field, explained that this tendency leads to insulated input from those most affected, and further confines data and analysis to traditional quantitative information such as geospatial data, census results, and other forms of 'hard data.' This pattern thus restricts the inclusion of "non-traditional" forms of data, notably those understandings drawn from the lived experiences of those most affected. Therefore the goal is not simply to include more types of information, but to combine quantitative and qualitative data through collaboration between researchers and communities in order to more robustly and comprehensively document injustices in a way that allows legibility, participation, and engagement of a greater diversity of people, scholars, and community members.
A further challenge comes in addressing the deep structural issues of racism, sexism, and classism that pervade the behavior of some communities as well as larger social and political institutions. Tom Goldtooth, director of Indigenous Environmental Network, spoke to us via live audio feed from Standing Rock and made clear to the audience that although the scale of this particular protest may be significant, this is just an example of the repeatedly lived experiences for disenfranchised peoples wherein the needs and actions of state actors and/or corporations are able to avoid repercussions of land seizure, pollution, or treaty infringements.
Furthermore, the scope of injustices is not simply urban. While cities have increasingly been the focus of a trove of writing on the topic, a more accurate perspective must recognize that urban does not simply mean "city" – but should better refer to the regions that urban, peri-urban, and rural communities all participate in. While cities may have denser populations, environmental justice persists across the entire spectrum of environments. Julie Sze, professor and Chair of American Studies at UC-Davis, explained the demarcations of neighborhood, town, or city all fail to account for the scale of consequences of climate change effects and environmental injustices, and argued for the necessity of deep, inclusive collaboration and communication.
Many visiting scholars and panelists, including Mia White, Rachel Morello-Frosch, Kim Powe, and Jill Mangaliman, indicated that environmental injustices are not rooted in isolated moments of conflict, but rather are the result of a sustained conflict where market forces and structural disenfranchisement may repeatedly infringe upon sovereignty, food systems, human health and well-being, and environmental integrity. Discovering points of action in these complex issues will require that academics and others collapse the usual barriers of collaboration and information access.
Looking forward, the conversation among scholars, activists and other attendees argued that a failure to reach across usual lines—of discipline, sector, class, race, gender, and other differences—will effect the continued, critical loss of skills and experiences for both students and scholars, that may be compounded by a collective loss for the academy and their communities to know and learn from each other. Scientists, policymakers, community members and others can make it so their work is not only collaborative, but inclusive and broadly informed.
Below is a selection of readings from the speakers who joined us for this event. More resources, including video from the event, will be published soon.
Tom Goldtooth, Why REDD/REDD+ Is Not a Solution, No REDD Papers Volume 1, edited by Hallie Boas,13-25, Indigenous Environmental Network and Carbon Trade Watch, 2011.
Rachel Morello-Frosch, The Haves, the Have-Nots, and the Health of Everyone: The Relationship Between Social Inequality and Environmental Quality
Jacqueline Patterson, Climate Change is a Civil Rights Issue. The Root, 2010.
Julie Sze, "Exploratory Concepts, Case Studies and Keywords for Teaching Environmental Justice and Climate Change from the Humanities",Teaching Climate Change in Literary and Cultural Studies, edited by Stephanie LeMenager, Stephen Siperstein and Shane Hall, 184-190. Routledge, 2017.
Mia White, "Gender, Race, and Place Attachment: The Recovery of a Historic Neighborhood in Coastal Mississippi." In The Women of Katrina, 157-68. Vanderbilt University Press, 2012.
Urban@UW hosted the Urban Environmental Justice in a Time of Climate Change Symposium together with the Climate Impacts Group, and was a sponsor for the Graduate School's Walker Ames lecture featuring Jacqui Patterson.