Published on October 19, 2022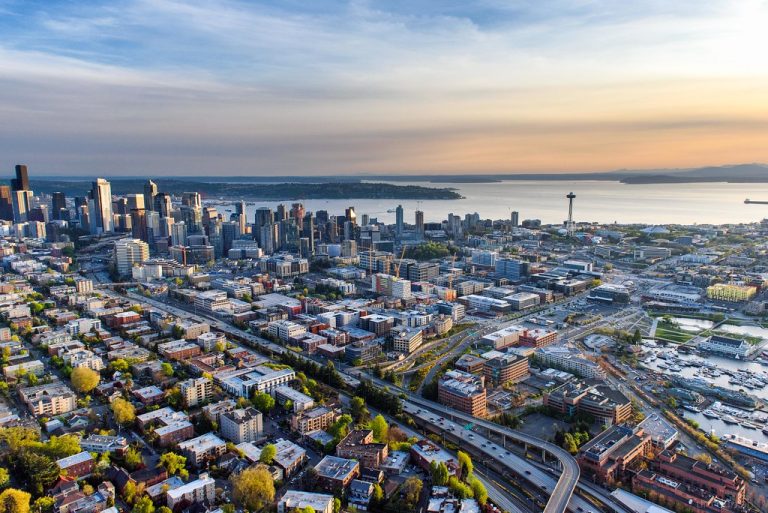 Over the past year, two teams of researchers from the University of Washington tackled a host of urban challenges in our region with the support of Urban@UW's Spark Grants. In September 2021 grants of up to $20,000 were awarded to amplify collaborative research-to-practice with a focus on today's urban issues. The two UW teams of researchers addressed homelessness and public health in Seattle and beyond.
Improving the Enumeration of Individuals Experiencing Homelessness in the U.S. Using Anonymous Cell Phone Location Data
The research team led by Principal Investigator Amy Hagopian proposed to estimate homeless populations using the location data generated by apps on smartphones carried by individuals experiencing homelessness. The team comprised faculty from public health, geography, statistics and biomedical informatics to analyze an immense amount of cell phone data from November 2018 through January 2019.
The transdisciplinary nature of the team allowed them to process enormous amounts of anonymous cell phone data and identify patterns in activity. By comparing this activity to formal City of Seattle reports of homeless encampment removals, the team produced heat maps that visually represented the before and after populations of encampments subsequent to "sweeps" of unsheltered people.
The team has been awarded a Population Health Initiative Tier Two grant to explore these ideas further. They are now working with an advanced undergraduate student, Wei Yang, to develop google AI technology to identify tents in street view images. The team may attempt to match these images to cell phone signals once they perfect this technique. The team is also working with Graham Pruss, PhD,  to trace vehicle residents, and working with outreach teams to map the proximity of homeless encampments to amenities and disamenities (such as pollution maps).
Collaborators:
Amy Hagopian, Professor, Health Systems and Population Health (PI)
Paul Hebert, Research Professor, Health Systems and Population Health
Adrian Dobra, Professor, Statistics
Gang Luo, Professor, Biomedical Informatics and Medical Education
Xinyang Ren, PhD Candidate, Biomedical Informatics and Medical Education
Zack Almquist, Associate Professor, Sociology
Water, Sanitation, and Hygiene Among Vehicle Residents: A Case Study of the Seattle Public Utilities' Recreational Vehicle Wastewater Pump-out Pilot Program
The team led by Principal Investigator Karen Levy sought to document the operation of Seattle's wastewater collection pilot program to examine the impact in Seattle and consider it as a model for the improvement of WASH services for vehicle residents in other cities
People experiencing homelessness and housing instability in urban America have insufficient access to water, sanitation, and hygiene (WASH) services, and the coronavirus disease (COVID-19) pandemic has exacerbated these inadequacies. Insufficient access to WASH services can increase the risks of enteric pathogen transmission and infection in densely populated cities. In response to this public health concern, in 2020 the City of Seattle piloted a first-of-its-kind program to collect wastewater from mobile home vehicles free-of-charge.
Employing a mixed-methods approach, the team used semi-structured interviews to characterize WASH access and associated behaviors of people living in vehicles and to describe the government-/policy-level oversight and outreach work with vehicle residency. The team also piloted wastewater-based surveillance methods that could be used in the future to identify key enteric pathogens found in vehicle resident wastewater. This study represents a necessary first step in understanding the implications of inadequate WASH access among vehicle residents and to continuing research and funding of equitable WASH service delivery in US cities. Using the data collected from the interviews, the team developed a conceptual framework for improving the availability of WASH services that the team plans to present at upcoming conferences.
Collaborators:
Karen Levy, Professor, Environmental and Occupational Health Sciences (PI)
Jessica Kaminsky, Associate Professor, Civil and Environmental Engineering
Leigh Hamlet, PhD Candidate, Civil and Environmental Engineering
J. Scott Meschke, Professor, Environmental and Occupational Health Sciences
Chris Wilkerson, Pilot Program Coordinator, Seattle Public Utilities
Nicolette Zhou, Research Scientist, Environmental and Occupational Health Sciences
Graham Pruss, Post-Doctoral Fellow, University of California San Francisco
April Ballard, PhD Candidate, Emory University
Joe Brown, Associate Professor, UNC Chapel Hill
Drew Capone, Post-Doctoral Fellow, UNC Chapel Hill