Published on January 5, 2016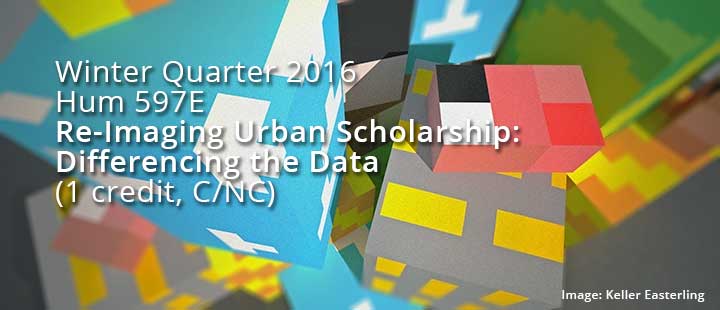 Winter Quarter 2016 | HUM 597E | 1 credit, C/NC
Instructor:Thaisa Way (Landscape Architecture)
Meeting Dates:
Friday, January 15, 12-1:20 pm (Startup Hall)
Friday, January 29, 12-1:20 pm (Henry Art Gallery)
Tuesday, February 2, and Wednesday, February 3 (Participation encouraged as feasible, Center for Urban Horticulture)
Thursday, February 4, 9-10:20 am (eScience Institute, Physics/Astronomy Tower)
Thursday, February 25, 6-7:30 pm (Communications 120)
Friday, February 26, 12-1:20 pm (Communications 202)
This microseminar explores how we might re-read cities by acknowledging and differentiating the data upon which we build our knowledge. As Lisa Graumlich (Dean, College of the Environment) recently wrote, "To imagine desirable, novel futures, we need to get even better at working at the boundaries between science and society. Now more than ever we need to build bridges with thinkers, who are shifting the political and cultural dialog, and doers, who are leading innovation in technologies, policies, and practices." This seminar seeks to catalyze thorny discussions across disciplines and their data. Our purpose is to build a thicker intellectual foundation for engaging multiple audiences in the challenges and opportunities of urbanism in the 21st century.
After an introductory discussion on cities and contemporary urban research, we will convene around the visits of a series of important leaders in a diversity of disciplines. Beginning with an exhibit by the architect Keller Easterling (Professor, Architecture, Yale University), we explore her work at the Henry Art Gallery that questions the gifts or exchanges made between city governments and corporations suggesting the urban landscape as an economic site and commodity to be negotiated. In discussion with data scientist Charlie Catlett (Senior Computer Scientist, Argonne National Laboratory and Visiting Artist, School of the Art Institute of Chicago), we will investigate big data as a framework for what we can know about cities and urban systems. Finally, Mario Luis Small (Grafstein Family Professor, Sociology, Harvard University) challenges us to reconsider the heterogeneity of American ghettos in the contemporary city.
Students will write a one-to-two-page reflection on each of the three urban discussion topics: Corporations & Government,
Big Data & Sensors, and Heterogeneity & Ghettos.
Questions? Contact Thaisa Way, tway@uw.edu.