Published on September 21, 2022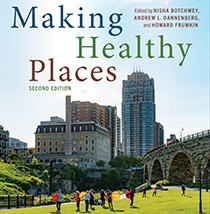 How does the design of the built environment – such as houses, schools, workplaces, streets, parks, transportation systems, and urban form – affect our health and well-being? To explore these issues, editors Nisha D. Botchwey, Andrew Dannenberg, and Howard Frumkin, recently published the second edition of "Making Healthy Places: Designing and Building for Well-being, Equity, and Sustainability." The College of Built Environments asked the editors about the importance of this book now.
What topics are covered in the second edition of the book? Why did you include these in this new version? What are some key differences between the first edition and the second edition?
This second edition (2022) maintains key messages while expanding treatment of some topics including wellbeing and sustainability, with new chapters on equity and health disparities, issues across the lifespan, climate change, resilience, technological innovations, and impacts from the COVID-19 pandemic.
We were able to review feedback from UW students on the first edition and incorporate that into the new and updated chapters. We also included updated references along with a website. It was important for us to increase diversity of contributors by gender, race, geography, and professional expertise, incorporate global perspectives, and keep sustainability as a main focus.
With an urban planner as the lead editor of the second edition, the book highlights work that can be done by planners and other design professionals in collaboration with public health professionals to promote health, well-being, sustainability, and equity.
Continue reading at the College of Built Environments.
Originally written for the College of Built Environments.