Published on July 21, 2020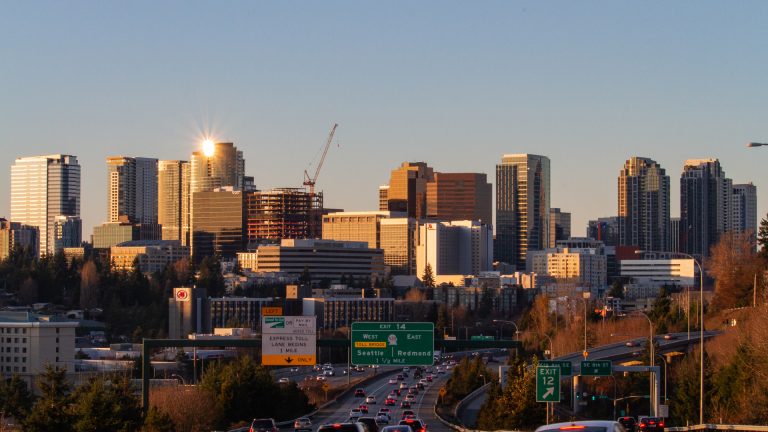 In an effort to prevent deaths and injuries caused by crashes between vehicles, bikes and pedestrians, the city of Bellevue, Wash., set out more than five years ago to foresee the future. The idea was to use machine learning to analyze thousands of hours of video collected by 360-degree traffic cameras already installed citywide to identify potential crash hot spots and tease out dangerous traffic patterns.
The city this week shared its first batch of reports from the groundbreaking program, which has drawn comparisons to "Minority Report," the 2002 film in which Tom Cruise anticipates and preemptively stops crime.
"Bellevue is leading the way on this," said Roger Millar, Washington Secretary of Transportation. "The analytics and AI going into it is doing a lot to predict and eliminate crashes."
The project could aid Bellevue and other communities internationally that are aiming for "Vision Zero" — a strategy started in Sweden with the goal of eliminating deaths and serious injuries from traffic collisions.
The Bellevue Department of Transportation project examined collision close calls for vehicles, cyclists and walkers and calculated vehicle speeds. The study demonstrated a strong correlation between real-life crashes and the near misses detected from the deep neural network, validating the usefulness of the approach. It found overall traffic safety trends as well as identifying the most dangerous intersections.
The project kicked off five years ago with a partnership between Bellevue and Microsoft Research, whose engineers worked to develop software to analyze the traffic camera footage to categorize vehicles and pedestrians. In 2017, University of Washington civil and electrical engineering professor Yinhai Wang and his colleagues joined the project, and the team tapped the public to crowd-source some videos in order to help train the computer models. Wang is the founding director of the Smart Transportation Applications and Research Laboratory at the UW and director for Pacific Northwest Transportation Consortium. Despite making progress, Microsoft axed the project in 2018.
Continue reading at GeekWire.
Originally written by
Lisa Stiffler
for
GeekWire
.