Published on June 17, 2021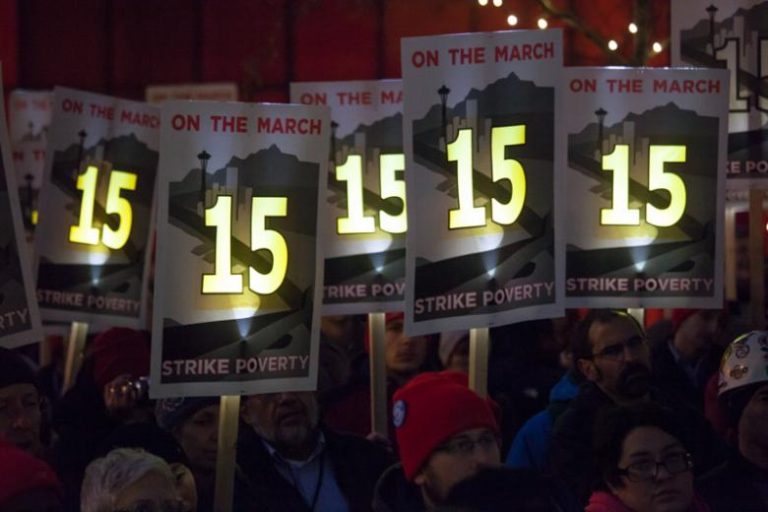 As the administration of President Joe Biden moves to establish a $15 minimum wage for federal contractors, and advocates call to raise the federal minimum wage nationwide, a new report revisits the lessons of Puget Sound's ground-breaking success in raising the minimum wage to $15.
Puget Sound's Fight for $15: Family Experiences and Policy Impacts of Increasing the Minimum Wage, issued by the Harry Bridges Center for Labor Studies at the University of Washington, presents a broad range of research related to the minimum wage in the Puget Sound. The report summarizes and reflects on that research as a contribution to the ongoing debate around the benefits and costs associated with increasing the minimum wage to $15.
The research profiled in this report identifies important political strategies for minimum wage policy changes, highlights nuanced perspectives on the implementation and enforcement of wage policy, and underscores the impacts of minimum wage legislation on working people and their families.
SeaTac and Seattle became the first cities in the nation to gradually increase their minimum wage to $15 an hour in 2013 and 2014, respectively. The victories in the Puget Sound region quickly catalyzed a proliferating array of campaigns to raise the minimum wage in many cities and states around the nation. Since then, relatively liberal states, such as California, and more conservative ones, such as Florida, have passed similar legislation.
The new report shares research findings on the impacts of the Puget Sound's new minimum wage on working families. For instance, Heather Hill, a UW Evans School of Public Policy and Governance faculty member shares, "As a tentative conclusion our data suggest that while the minimum wage may have improved wages and earnings for some workers, this may not be enough to keep up with how fast the cost of living is going up in Seattle."
Diana Pearce, a faculty member at the UW's School of Social Work finds that "While the minimum wage is still by no-means a living wage—the standard is based on a bare minimum that households need to stay above water—it definitely will have had a measurable impact on many families and has also pulled more [families] out of poverty than any other single policy in Washington state."
Clearly, additional wage improvement is necessary to advance meaningful social justice and improve life circumstances for vulnerable populations. Taken together, however, these research lessons spotlight innovative perspectives and methods that are often overlooked in much of the mainstream debate thus far.
Continue reading at the Harry Bridges Center for Labor Studies.
Originally written for the 
Harry Bridges Center for Labor Studies.