Published on October 12, 2021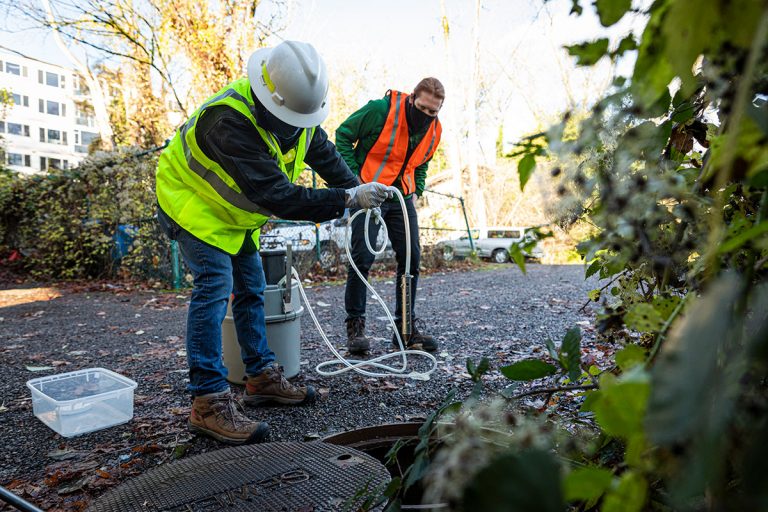 The poop doesn't lie — at least in Lynden, where it has helped guide the city's pandemic response for over a year. The Whatcom city has become home to one of the most thorough COVID-19 wastewater testing programs in the U.S., said Kent Oostra, owner of Ferndale-based Exact Scientific Services. His lab has tested Lynden's sewage for traces of the virus shed in people's feces since June 2020. This data can help predict when a COVID-19 outbreak may be on the horizon, he explained, giving about 10 days of notice before one occurs.
Exact Scientific Services is collaborating with University of Washington virologist Scott Meschke on a report outlining Lynden's testing program and examining whether it did indeed accurately predict when outbreaks occur. The first draft will be finalized in the next two weeks, Oostra predicts.
There have been major advances in wastewater-based epidemiology since the SARS virus spread around the world in the early 2000s, Meschke said. But there is still much to be learned about how the technology can be used to monitor public health, and Lynden is a good location to test these applications due to its manageable population size, he explained.
There has been wastewater testing in Seattle since the early days of the pandemic, but it is more difficult to track COVID-19 there since the city's population is much larger than Lynden's, Meschke said.
"There was always somebody sick in Seattle, but the amount of people not sick dilute out the signal. It was harder to see clear trends," he said. "Lynden is a case where we can actually see there are trends aligning with what the caseload looks like."
What's next in the world of wastewater virus testing? Figuring out how to sequence and identify different variants in the sewage samples, Meschke said. That will allow municipalities to understand how variants are spreading without determining which version every infected person has.
"The delta variant created new trends in the pandemic that we didn't expect," Meschke said. "We expected with vaccines that we would get a drop in cases. But with delta, we got a surge that put us right back where we were when the pandemic started."
Continue reading at The Bellingham Herald.
Originally written by
Ysabella Kempe
for
The Bellingham Herald
.