Published on October 29, 2020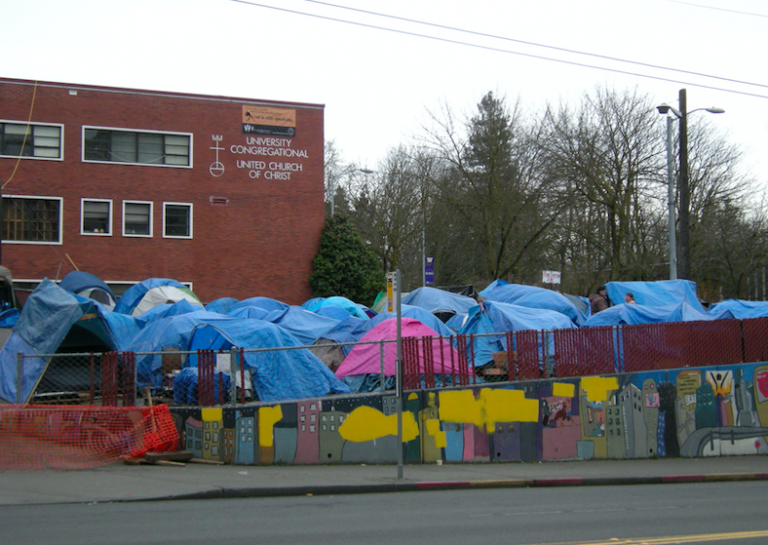 On a chilly Monday afternoon, case manager Richard Gibson walked through the courtyard at Martin Court in the southwest corner of Seattle's Georgetown neighborhood.
The weather in the days before had taken a cold turn, and the colorful children's playground he strode past sat vacant. Lining either side of the courtyard and parking lot were rows of doors, each one housing an individual or family experiencing homelessness.
And each one represents security, and a place to get out of the weather, for the people who live there.
"That's just extremely important," Gibson said.
Martin Court is one of several similar properties run by the Low Income Housing Institute, which provides housing for people in King County. It's a former motel that was retrofitted two decades ago into temporary supportive housing for people experiencing homelessness.
Residents can stay at Martin Court for up to two years as they get their bearings. Gibson and his colleague Charmaine Day help the residents get services like mental health counseling, finding permanent housing and even healthy cooking classes. Administrators say the program is largely successful, with most people moving into permanent housing after their stay at Martin Court.
And it's programs like this that could be expanded under the recently approved King County Health through Housing ordinance. The ordinance was approved by the Metropolitan King County Council on Oct. 13.
It created a 0.1% sales tax, which the county is planning on bonding against, generating hundreds of thousands of dollars for affordable housing projects.
In addition to addressing homelessness immediately, there's evidence that stable, single-room housing — like those provided by converted hotels — is keeping people safer during the pandemic.
A recently-released study from the University of Washington found that this kind of shelter kept people from contracting the coronavirus. The study suggested it was lessening the number of outbreaks.
"That was kind of a 'mission accomplished' for the first goal," said Gregg Colburn, an Associate Professor at the University of Washington's College of Built Environments' Runstad Department of Real Estate.
Continue reading at Seattle Weekly.
Originally written by
Aaron Kunkler
for
Seattle Weekly
.