Published on September 21, 2021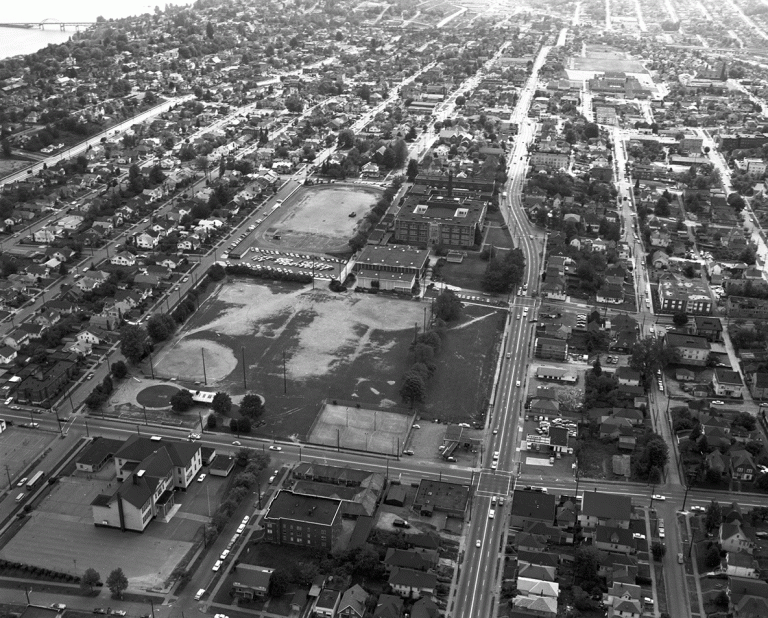 Professors in the University of Washington's College of Built Environments have created an interdisciplinary, graduate-level course, the McKinley Futures Nehemiah Studio, that combines architecture, landscape architecture, urban planning and design, and real estate principles into a groundbreaking opportunity for the local African American community as well as the students who participate in it. The studio partners with the Nehemiah Initiative Seattle, which helps Black-owned institutions and churches develop their properties in Seattle's Central District.
The Nehemiah Studio is co-taught by Donald King, FAIA, an affiliate professor of architecture and president and CEO of the Nehemiah Initiative Seattle; Rachel Berney, Ph.D., an associate professor of urban design and planning; and Al Levine, an affiliate instructor of real estate. Aaron Fairchild, the CEO and co-founder of Green Canopy and the Nehemiah Initiative, lends his real estate development expertise. Green Canopy is a real estate developer and general contractor with a mission to "build relationships, businesses, and homes that help regenerate communities and environments," according to the company's website.
In the following article, King, Berney, and Fairchild explain the initiative and course in detail for Civil Engineering.
Briefly describe the Nehemiah Initiative. What is its purpose?
DK: The Nehemiah Initiative Seattle is a faith-based community development initiative. Its mission is to empower the African American community to support the retention of historically Black institutions by advocating for the development of real property assets owned by those institutions.
Within our mission, we intend to stem the displacement of the Black urban population from central Seattle and retain the remaining Black residents and businesses by providing affordable housing and business spaces on property currently owned by historically Black organizations.
As advocates for this cause, the Nehemiah Initiative builds financial and political strength for the community through instruction on property development, community organizing, and employing effective ways to influence public policy. We believe this will empower predominantly Black faith-based organizations to foster economic growth and strengthen their beloved communities.
What is the Nehemiah Studio, and how does it support the initiative?
RB: The Nehemiah Studio brings together architecture, landscape architecture, real estate, and urban design and planning students to create pathways for communities to heal from past inequities and thrive in an equitable and inclusive future. For the college, this begins by equipping students with the requisite cultural understanding and intercultural communication skills to work together in teams and in the community. They use their financial, design, and planning expertise to serve faith-based organizations for the predevelopment planning of their undeveloped and underdeveloped property.
How did you become involved in this initiative?
DK: I was introduced to Bishop Garry L. Tyson, senior pastor of Goodwill Missionary Baptist Church in Seattle, in late 2017 by Aaron. They wanted my help in developing his church's property. In a discussion with the bishop and Aaron, we began to realize that Bishop Tyson's church was not unique in its challenges of being property rich and cash poor. Most of the historically Black churches in central Seattle faced the pressures to sell their property to private developers and leave the city for more affordable suburban locations. The actionable idea to disrupt this pattern of displacement of Black residents, businesses, and churches launched the Nehemiah Initiative. (Nehemiah is the 16th book of the Bible and tells the story of the Israelite community rebuilding after the destruction of the first temple in Jerusalem.)
Why is the studio innovative?
DK/RB: The challenge of slowing this displacement could not be met by these 'cash poor' churches, which do not have the resources to fully investigate their development potential. The establishment of the studio was an innovative alternative that introduced students to engagement with underserved communities and allowed them to experience working in interdisciplinary teams to achieve a successful collaborative outcome.
Continue reading at the American Society of Civil Engineers.
Originally edited by
Margaret M. Mitchell
for the
American Society of Civil Engineers.