Published on October 29, 2019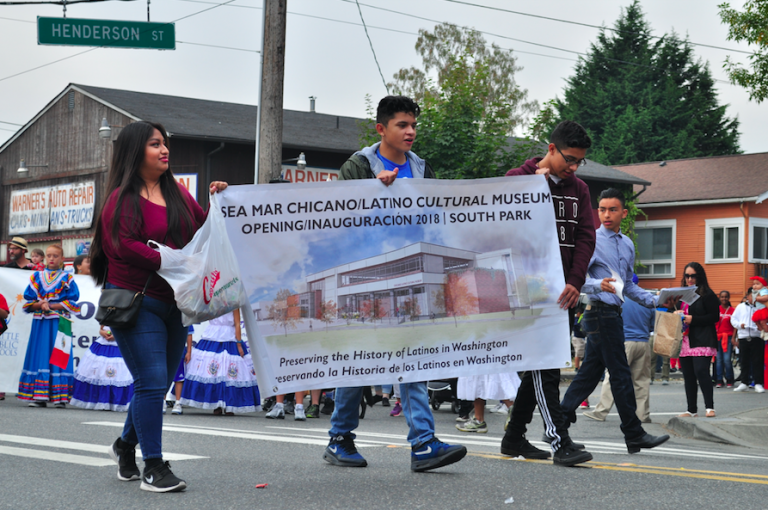 It's 2 p.m. on a Thursday afternoon and the crowd at a new Mexican American cultural center in South Park is at capacity. Bailadores de Bronce, Washington's oldest Mexican folkloric dance group, takes the stage to present two distinct traditional dances that reveal the variety within Mexican culture.
"I think when I was growing up I had a cultural identity crisis," says 20-year-old dancer Katherine Madrigal after she performs. She explains that being Mexican American means you're never Mexican enough for Mexico and never American enough for the U.S.
"I still find that crisis within myself, but being able to have this museum and really see what this culture was helps me know that I belong in this community," Madrigal says, as she browses exhibits on Washington state's Mexican American history at the brand new Sea Mar Museum of Chicano/a/Latino/a Culture.
The new museum draws attention to an often overlooked slice of Washington state history, which includes major Mexican American contributions to agriculture, railroad transportation and civil rights. It also breaks ground as the first museum in the Pacific Northwest to highlight the Mexican American experience in this region.
Jake Prendez, a Chicano artist in Seattle, attended the University of Washington, where he studied Chicanismo from Erasmo Gamboa, professor of history and Latin American studies, and one of the museum's advisers. "It takes up a lot of space in academia," Prendez says. "How do we unify our communities under an umbrella term but also celebrate our uniqueness and variation?"
Continue reading at Crosscut.
Originally written by Agueda Pacheco Flores for Crosscut.