Published on May 10, 2022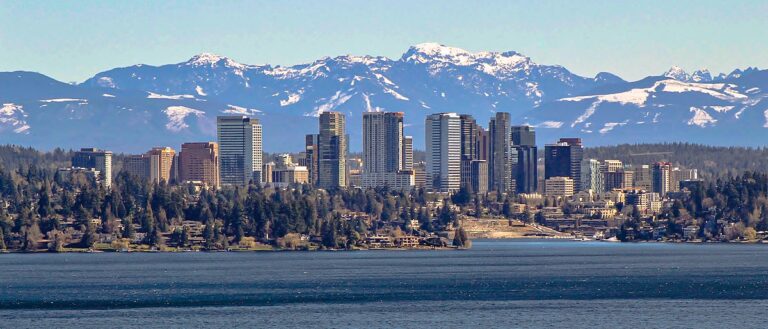 Comparing Silicon Valley and Seattle has become something of a regional pastime in the Pacific Northwest.
But the comparison might be more accurate if directed a few miles east, across the shores of Lake Washington to where Bellevue skyrises are multiplying. Because historically speaking, the rise of the eastside closely mirrors the trajectory of Silicon Valley's San Jose.
"Bellevue has a lot in common with a place that I talk about and write about a lot," said tech historian Margaret O'Mara, speaking at a Bellevue Downtown Association event last week. "And I can't say that of many places."
The place O'Mara was alluding to, of course, is Silicon Valley.
"The intersection between massive urbanization and defense spending in both the Seattle area and the Bay Area are a really important parallel, and also help explain why these places became early hubs of technology," said O'Mara, a University of Washington professor known for her work centered on the rise of Silicon Valley.
Bellevue is hardly an underdog when it comes to tech. It hosts high-profile offices for T-Mobile, Facebook, Microsoft and – increasingly in recent years – Amazon. And as Seattle grapples with crime and political battles, Bellevue is looking like an appealing homebase for some other tech companies, too.
But despite recent headlines about companies landing in Bellevue, the city's history with technology goes back a long ways – just like in the Bay Area. Speaking last week, O'Mara outlined the factors that transformed both Silicon Valley and the eastside into tech hubs.
In the Bay Area, the federal government poured huge amounts of defense money into aerospace companies such as Lockheed. In the Puget Sound region, it was Boeing. Those companies acted as magnets for engineers and their families (Steve Wozniak's father was a Lockheed engineer) – and O'Mara noted it's children of the defense-spending boom who are often credited with jumpstarting the tech industry in the second half of the 20th century.
Take, for example, the 1962 World's Fair in Seattle, which focused on technology of the future.
"Seattle and Bellevue kids came to the fair," O'Mara said. "They rode the Monorail, they saw the future, and they were changed by that."
But the story of the eastside's rise isn't entirely a story of wide-eyed children dreaming big. Like most of the country's history, there's an ugly undercurrent of racism as well. Historians, O'Mara included, have noted how forced busing in Seattle prompted what's commonly called "white flight" in the region, with wealthy white families moving across Lake Washington to eastside suburbs to avoid social changes brought by desegregation efforts.
Continue reading at GeekWire.
Originally written by Amy Rolph for GeekWire.