Published on September 10, 2020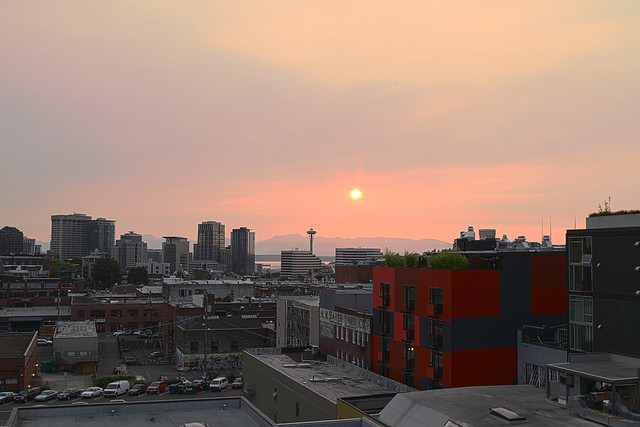 People in the Seattle area woke up Tuesday morning to hazy orange skies and the smell of smoke over the region as winds blew wildfire smoke from Eastern Washington into the Puget Sound.
The Puget Sound Clean Air Agency rated the air quality in the region as "unhealthy for everyone" and advised people to take precautions to stay safe. As the coronavirus continues to spread throughout the area, the wildfires and smoke pose an even greater challenge.
"Both COVID-19 and wildfire smoke affect the respiratory and cardiovascular systems and increase health risks, especially for sensitive populations," a joint news release from the Puget Sound Clean Air Agency and a number of local health departments said.
As of Tuesday morning, King, Kitsap and Snohomish counties were all experiencing heavy wildfire smoke. Air quality across the Puget Sound is expected to be at "unhealthy for sensitive groups" and "unhealthy" levels through at least Wednesday.
Wildfire smoke could have a number of impacts on people including burning eyes, runny nose, coughing, shortness of breath and headaches. It can also cause or worsen some conditions such as asthma attacks, chest pain and trouble breathing.
But there are several steps people can take to stay safe.
"For people who have bad underlying lung disease, I think it's worth taking much more caution during days like this when the air quality's really bad and limiting their exposure to the smoke and particulate matter as much as they can," said Dr. Andrew Luks, UW Medicine specialist in pulmonary and critical care.
If people have new or increasing symptoms, Luks recommended they contact their primary care provider. For people who are healthy and don't have any underlying lung diseases, Luks had a simple message: "Listen to your body and just pay attention to how you feel."
One of the most basic ways to stay safe, for everyone, is to stay inside as much as possible when air quality is poor.
"Avoid outdoor activity as much as possible when the air is smoky and unhealthy, especially strenuous exercise," Public Health—Seattle & King County said in a blog post. "Athletes, bikers, runners and hikers should postpone their activities until the air quality improves. It's better to find an indoor activity until the air clears."
Continue reading at SeattlePI.
Originally written by
Becca Savransky
for
SeattlePI
.