Published on March 10, 2023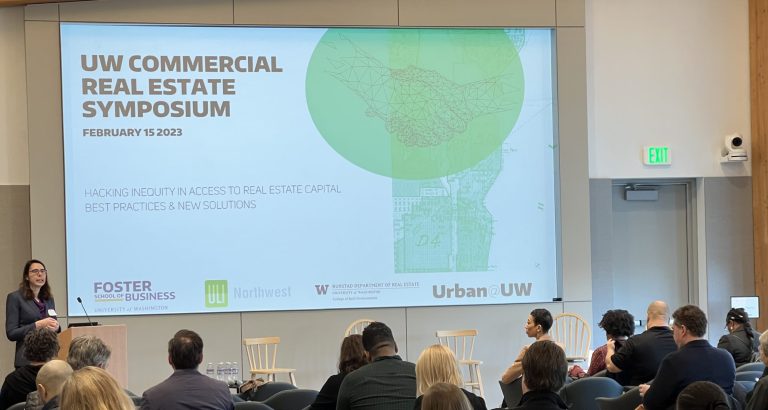 Last month, housing finance professionals, community members, and University of Washington faculty, staff, and students met in Founders Hall for "Hacking Inequity in Access to Real Estate Capital: Best Practices and New Options." This event, hosted by Foster School of Business, Runstad Department of Real Estate, Urban@UW, and ULI Northwest, sought to present strategies of real estate capital-raising for BIPOC community advancement, and discuss obstacles to accessing traditional capital markets in historically underserved communities and by BIPOC developers.
The program began with a keynote address from Eve Picker. After discovering a passion for rehabilitating old buildings in Pittsburgh, Eve learned how difficult it was for a woman in real estate to access capital and founded Small Change, a real estate crowdfunding platform focused on female and BIPOC developers , a broad range of project types and sizes, and fundraising from non-accredited investors. With dozens of projects successfully funded or currently raising funds, as well as many more in the pipeline, Small Change is connecting developers and investors and providing a venue for developers to activate their existing networks outside of traditional capital markets.
Following the keynote, attendees heard from two panels: one focused on the experiences of developers seeking capital, and the other on the experiences and advice of capital providers. During the panel discussion with seekers of capital, attendees heard about the obstacles BIPOC developers face while trying to acquire funding for projects. The panel included Kateesha Atterberry, founder of Urban Black; Jaebadiah Gardner, founder of GardnerGlobal; Leslie Byrd, partner at Alpha Sharp Development Partners; Maria Barrientos, founding partner at barrientos RYAN; and moderator Donald King, president and CEO at Nehemiah Initiative Seattle.
Panelists shared their personal experience with trying to access capital as their personal experiences as Black, Hispanic, and women developers, and how racist and sexist assumptions about their development abilities limited their access to capital, which affected the size and type of the projects they could take on early in their careers. One sentiment shared by all panelists was how important it is to build a good reputation and a strong team in order to overcome these challenges in accessing capital.
The panel of capital providers also emphasized the importance of having a good, reliable network. Moderated by Michelle Purnell-Hepburn, Associate Dean of Inclusion and Diversity at the Foster School of Business, the panel included Eve Picker; Mele Miller, most recently COO for a CDFI and cooperative credit union; and Larry Gilmore, president and CEO of ClearBlu Capital Group.
Asked how they see capital seekers that come to them, panelists further underscored the importance of building relationships and seeking mentors, particularly early in one's career. Panelists also spoke about the broader impact of their work, and how they view connecting women and BIPOC-led projects with capital as a way to redress historical wrongs and change the face of wealth-building  in the United States.
In line with the importance of relationship-building the panelists spoke about, this event offered attendees opportunities to network and meet with professionals who are committed to making the capital market more equitable and representative.
Click here for event information.
Written by Logan Bridge.