Published on March 19, 2021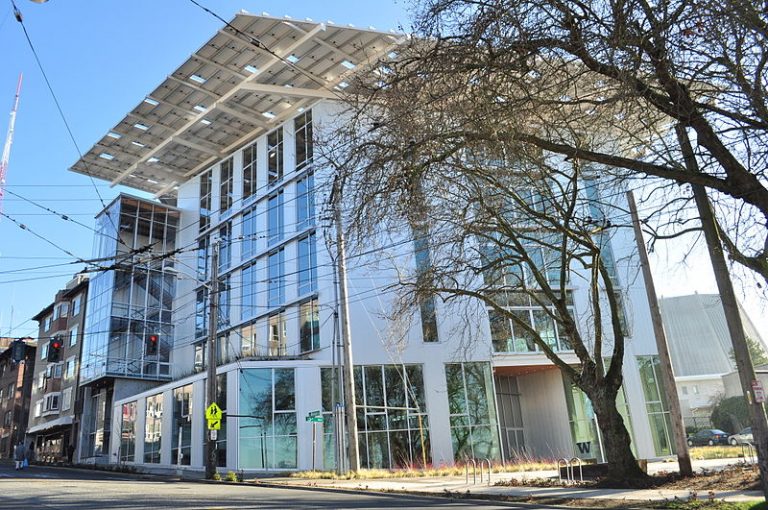 The following op ed was penned by Anthony Hickling, Managing Director of University of Washington's Carbon Leadership Forum.
When President Joe Biden re-signed the Paris Accord and introduced the largest clean-energy and climate-justice plan the country has ever seen, he launched a significant opportunity to fight climate change. Buildings can be part of the solution.
Many have long known that buildings account for a whopping 39% of global energy-related CO2 emissions. What comes as news for many building professionals and policymakers alike is that over the next few decades, as much as half of those new building-related emissions will be released during the production and transportation of the materials themselves. That's right: Much of a building's emissions will be released into the atmosphere before we even turn the lights on.
As decision makers increase building efficiency measures and work to decarbonize building operations (such as Seattle's decision to ban natural gas for space heating in most new commercial and apartment construction), we must also reduce the impact required to construct our buildings in the first place.
The industrial processes behind mineral extraction and the production of building materials such as concrete, steel, glass and interior finishes are incredibly resource intensive. And when we're anticipating so much construction that the equivalent of a New York City (in terms of floor area) will be added to the world nearly every month for the next few decades, it becomes clear that something must be done, fast.
While these last four years have not been filled with significant national progress on climate change, policymakers and industry stakeholders have taken some crucial first steps toward a zero-carbon future. And as local, state and national institutions accelerate climate action, it's crucial that buildings and infrastructure play an active role.
The Carbon Leadership Forum (CLF), based at the University of Washington, has been educating, convening and enabling a wide swath of building professionals to employ materials and practices that emit less carbon. Formerly an industry blind spot, these upfront emissions are now recognized by a growing group of building professionals and policymakers as a key lever to reduce building-related emissions. By implementing clean manufacturing practices to lower the emissions associated with materials such as steel and concrete, by adopting new design principles, and by using plant-based materials like sustainable wood, algae and straw, leaders in the CLF network are demonstrating how buildings can store billions of tons of carbon while supporting more vibrant and healthy communities.
Continue reading at the Seattle Times. 
Originally written by
Anthony Hickling
for the
Seattle Times.