Published on December 16, 2019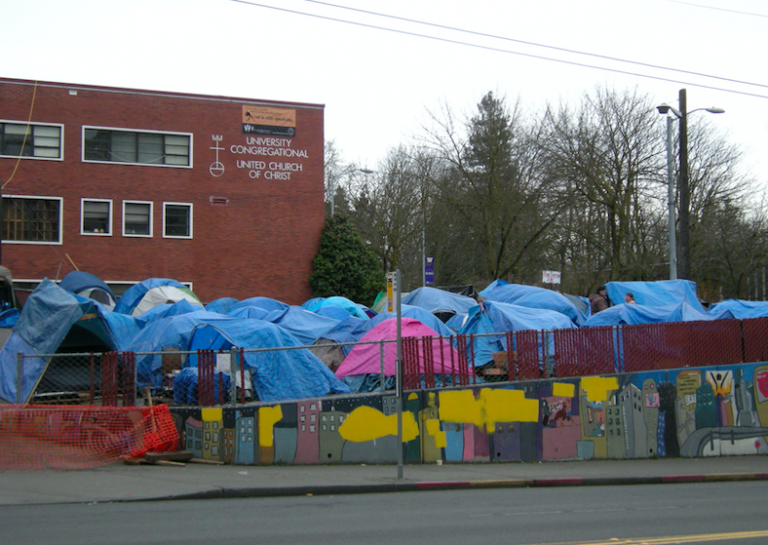 The Doorway Project, a cross-campus and community-engaged project under Urban@UW's Homelessness Research Initiative, has been busy! Check out their activities and plans for the future in their latest blog post:
With the end of the year and the end of the decade approaching in the next few weeks, this moment feels like a perfect time to not only reflect on where we've come from, but shine a light on the path ahead.
In just the last six months since the launch of Doorway Project 2.0 (July 1, 2019), not only has there been a hand-off in the leadership of the project with Dr. Seema Clifasefi taking over on the UW side; and Jason McGill, Christopher Hanson and Degale Cooper stepping into Doorway leadership on the YouthCare side, but a number of changes happening throughout the University District. While this dynamic time in the community can sometimes feel like a whirlwind, our hope is that this quarterly update on the Doorway Project can bring you into the eye of the proverbial storm—that quiet and reflective space—to more clearly see the work we are doing and striving toward. To learn more about the launch of "Doorway Project 2.0" and the goals we have for the next two years, please take a look at our most recent blog post, "New Phase, Next Steps: Doorway 2.0 Fall Updates".
Since the writing of that entry back in October, our work in the University District has continued. We have been talking with service providers as well as young adults experiencing homelessness, in order to get a better idea of what is working, what could be better, and what folks want to see happen to create a better system of services. We've been fortunate to be able to sit down and hear from staff and/or clients at YouthCare, ROOTS, YMCA, Street Youth Ministries, Sanctuary Art Center, University District Public Library, and TeenFeed. These focus groups and one-on-one interviews with 8 different agencies and 51 individuals have been illuminating towards the need for increased interagency coordination, expanded service hours, and new ideas for programming in the University District. As a part of fully understanding the nuances of the conversations, we are continually transcribing and using qualitative research methods to code for common themes, and this helps us more accurately reflect what we are hearing.
Continue reading at the Doorway Project.
Originally written by
Noah Weatherton
for the
Doorway Project
.