Published on September 23, 2019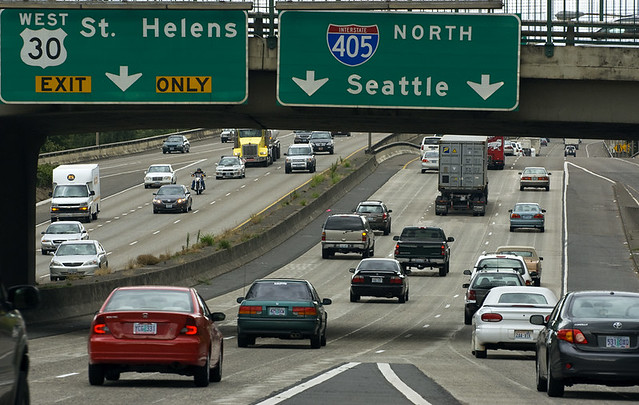 A team in the eScience Institute's Data Science for Social Good (DSSG) program has partnered with the Washington State Department of Transportation (WSDOT) to study the usage patterns, price sensitivities and equity impacts of congestion pricing on Interstate 405.
The project utilizes data on the more than 16 million trips taken in the high-occupancy toll (HOT) lanes of I-405 in 2018, including 56 million toll transactions, entry and exit points, overall speed and volume in each lane, and a categorization of high-occupancy vehicles (HOVs) versus single-occupancy vehicles (SOVs). WSDOT also provided the U.S. Census block-groups associated with registration addresses for a large fraction of the HOV and SOV accounts, which allowed the extraction of census data describing the socio-economic attributes of users of the facility. Finally, detailed facility performance data describing traffic volumes and speeds was obtained for both the HOT lanes and the parallel general purpose (GP) lanes. The tolling data was provided by WSDOT and is not publicly available. License plate and vehicle account information is fully anonymized.
Project leads included Mark Hallenbeck, director of the Washington State Transportation Center at the UW, and  Vaughn Iverson, research scientist at the eScience Institute and the Center for Environmental Genomics in the UW School of Oceanography.
The team presented the results of their analysis at the DSSG final presentation as one of four 2019 DSSG project teams on Wednesday, Aug. 21st.
Continue reading at the eScience Institute.
Originally written by Emily F. Keller for the
eScience Institute
.