Published on May 7, 2020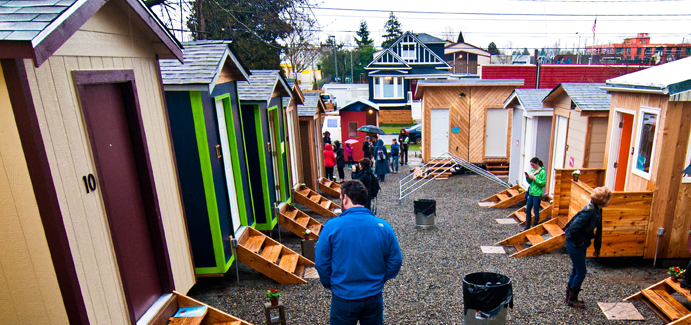 Lola Anderson-Najera finally has a door that locks.
After years of weaving in and out homelessness, sleeping "elbow-to-elbow" in shelters and sometimes outside, she's found a tiny, temporary home. It's small, but it has a chair to read in, an end table to hold her things, and fresh sheets. Above all, she said, there's a new feeling of security.
"I think I actually sleep with a smile on my face here," Anderson-Najera said.
Anderson-Najera's 96-square-foot home, which she moved into in mid-April, is part of a new tiny-house village in Seattle's Central District that was built and opened early as the city rushed to find more housing solutions to protect its homeless population from the spread of the coronavirus. Normally, these projects take months of paperwork and approvals, said Josh Castle of the Low Income Housing Institute (LIHI), which built the tiny houses. But the pandemic changed all that.
Emboldened by these steps, shelter providers, advocates and even lawmakers say that this could be the push to change how Seattle and America address homelessness, beyond the pandemic.
Hilary Godwin, dean of the University of Washington School of Public Health and professor of Environmental and Occupational Health Sciences, said she thought it "unfortunate" that "it took this kind of outbreak" to set up more portable hygiene facilities. But she said she hoped local governments would continue to expand on and provide these resources even after the pandemic subsides.
Continue reading at The Seattle Times.
Originally written by
Sydney Brownstone
,
Scott Greenstone
, and
Anna Patrick
for
The Seattle Times
.