Published on November 20, 2019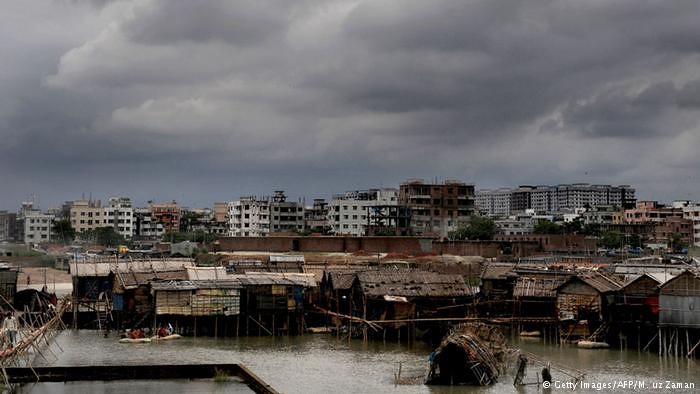 Between 2009 and 2018, 71 million people worldwide were forcibly displaced. This includes 41 million people who have been displaced within their own country, including the majority of climate migrants (World Bank Group, 2018 [PDF]); 26 million refugees, those forced to flee because of violence or persecution; and 4 million asylum-seekers, those who are waiting for international sanctuary. Climate change accounts for over 35% of displaced people across the world. Global warming is impacting every corner of the world, yet often the countries that contribute the least to increasing greenhouse gas emissions and have a more limited capacity to deal with the consequences are hardest hit by rising sea levels, increasing temperatures, droughts, and extreme weather events. Since 2008, climate change has forced an average of 26 million people a year from their homes: in the most vulnerable regions–sub-Saharan Africa, South Asia, and Latin America–over 140 million people could be forcibly displaced by 2050. 
Migrants overwhelmingly settle in cities once they are forced from their homes, yet cities in the Global South often lack the necessary infrastructure to accommodate thousands of new climate migrants. Increasing frequency and ferocity of natural disasters, flooding, drought, and extreme temperature shifts are exacerbating the already harsh challenges of overcrowding, lack of resources and public services, and poor infrastructure in these regions. Cities across the West like Los Angeles, New York, and Berlin have historically been major centers of international migration growth. Now, cities like Buenos Aires, Mexico City, and Mumbai are bearing the brunt of growth due to both international and internal migration. These cities are primarily in less developed countries and often have insufficient infrastructure and services to adapt to an increasing number of climate migrants. Providing adequate and affordable housing is one of the biggest challenges these cities face; the number of urban residents living in slums, many of whom are climate migrants, has increased by 28% worldwide over the past 24 years. The influx of migrants also places an increasing demand on water and sanitation resources in cities already struggling with poor infrastructure, resulting in substantial public health challenges (World Economic Forum, 2017 [PDF]).   
Bangladesh, a small coastal nation with one of the highest population densities in the world, is one of the most vulnerable countries to climate-induced drought, sea level rise, and flooding. With a total population of 165 million in an area smaller than Illinois, Bangladesh is half the size of the United States. However, Bangladesh produces less than half a ton of carbon dioxide per person, totaling 73 tons per year across the population. This pales in comparison to the over 16 tons per person, and nearly 6,000 tons per year, in the United States, the impact of which spreads across the globe. By 2100, temperatures in Bangladesh could rise by up to 4.8 degrees Celsius (Environmental Science: Processes & Impacts, 2015 [PDF]). Already, sea level rise on the coast and riverbank erosion inland have resulted in mass displacement to urban slums; by 2050, one in every seven people in Bangladesh could be displaced, with the total number of climate migrants in the country projected to reach 13.3 million (Environmental Justice Foundation, 2017).
Dhaka, the capital city of Bangladesh, sits at the confluence of several rivers and is nearly twice as dense as Manhattan. Informal settlements are home to approximately 40% of Dhaka's 14 million residents. Seventy percent of those living in informal settlements in the city were forced from their homes as a result of climate change, and 50% of those climate migrants were displaced by riverbank erosion alone (Center for Strategic & International Studies, 2018 [PDF]). With up to 2,000 people moving to the city every day, the city's population could double to 30 million within two decades, further increasing the pressure on Dhaka's informal settlements. While US cities are most definitely feeling the effects of climate change, cities like Dhaka are forced to deal with forcibly displaced climate migrants and the extreme effects of global warming on a daily basis. 
Cities in the Global South are certainly not the only ones affected by climate change. Across the US, from Seattle to Houston to Miami, sea level rise, drought, and extreme weather events are impacting people's lives with greater frequency. As temperatures rise in warmer regions of the country, more and more people are moving to the Pacific Northwest (Climate Impacts Group, 2015 [PDF]), resulting in similar pressures on housing, transportation, and schools. From Dhaka to Seattle, an influx of climate migrants puts pressure on all sectors of city services and infrastructure, and is becoming much more important as global warming increases. Global climate migration has increased dramatically over the past several years, and cities around the world are now dealing with the consequences.
Originally written by Rebecca Fogel, Urban@UW communications assistant.