Published on August 24, 2018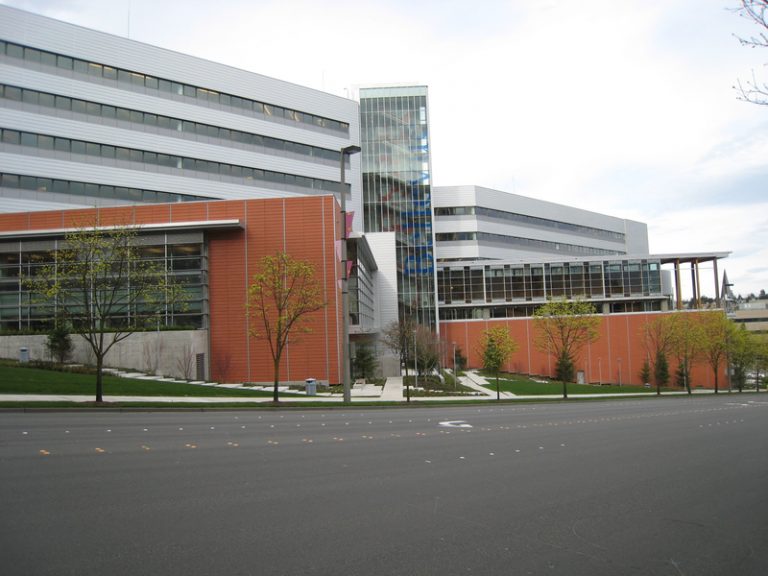 Considering that most people spend one-third of their day at work, UW Civil and Environmental Engineering researchers are advocating for healthier buildings. And they aren't wasting any time. The first government building in Puget Sound, Bellevue City Hall, recently gained Fitwel Certification thanks to their help.
"Since the built environment affects human health, the certification symbolizes the city's commitment to promoting health-conscious individual behaviors and furthering community engagement," said assistant professor Amy Kim.
As Fitwel ambassadors, Kim and post-doc Shuoqi (Stanley) Wang guided the City of Bellevue staff through the process of gaining Fitwel Certification for Bellevue City Hall. One of the leading certifiers of healthy buildings in the United States, Fitwel was developed in recent years by the U.S. Centers for Disease Control and Prevention and U.S. General Services Administration, and is operated by the Center for Active Design.
Through thoughtful design and operations within buildings, Fitwel encourages the adoption of 63 strategies that encourage healthy behavior by occupants. Based on research evidence, the strategies range from providing outdoor spaces to enhancing the visibility of stairwells to providing healthier food and beverage options in vending machines.
Continue reading at UWCEE
Originally posted on
UWCEE
by
Brooke Fisher