Published on August 7, 2019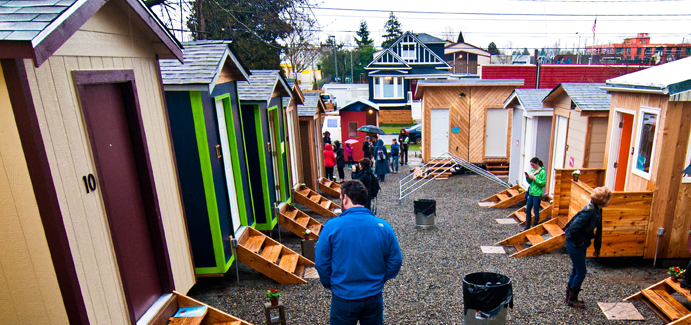 Olivia Tyrnauer adjusts the ladder and carefully begins to climb, balancing on the steps as she carries a large window up to an empty frame.
Positioned precariously on one of the top steps, she loops a screw gun out of her belt and pulls a screw from one of the pockets of her tan cargo pants. Confidently and methodically she begins to secure the window in place.
The 21-year-old junior at The Evergreen State College has spent the past nine months building a 204-square-foot tiny house on a trailer from scratch on a $20,000 budget.
Difficulties finding housing in Olympia's tight market further inspired her to begin building, she said. Tyrnauer studies sustainable agriculture, so she said she needed to be in a place with access to the outdoors.
"It was really, really tough as a college student to find a place," she said.
According to a University of Washington study conducted by Rachel Fyall, assistant professor at the Evans School of Public Policy & Governance, Christine Stevens, associate professor in the Nursing and Healthcare Leadership program at UW-Tacoma, and Lynne Manzo, professor of Landscape Architecture, housing insecurity affects college students throughout Washington.
On three of their campuses in 2018, 4,800 to 5,600 students dealt with housing instability and were forced to spend nights in their cars, homeless shelters or couch surf with friends.
Continue reading at The Olympian.
Originally written by Kate Lida for
The Olympian
.