Published on September 2, 2016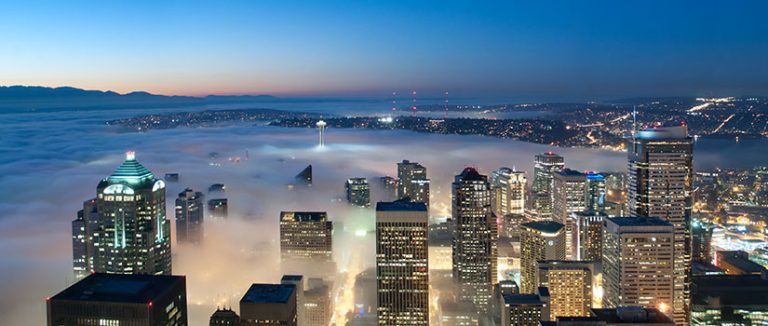 August was a busy month at the University of Washington and the Seattle region when it comes to urban research, writing, and project launches. Take a look at what's been happening.
Urban@UW will be running a half-day workshop as part of the Eighth International Conference on Social Informatics (SocInfo 2016.) Our workshop seeks to bring together researchers and practitioners to explore how we can apply urban data science to the challenges of urban homelessness. Our workshop deadline is October 1, 2016.
CoMotion began developing a new incubator space for augmented and virtual reality startups.
Urban@UW published an piece looking at sidewalks and disparities regarding mobility and safety across different communities and user groups.
The Department of Urban Design and Planning's Marina Alberti published a new book, "Cities that Think Like Planets: Complexity, Resilience, and Innovation in Hybrid Ecosystems." Alberti was interviewed by UW News about her book and recent thinking.
Thaisa Way, Urban@UW's executive director and associate professor in the Landscape Architecture department, was appointed chair of the Dumbarton Oaks Fellows in Garden and Landscape Studies.
The eScience Institute's Data Science for Social Good (DSSG 2016) research fellows concluded their summer with a rich symposium of research and strong media responses, including: The Seattle Times and ORCA card data, TechCrunch overviewed each project, GeekWire profiled the ORCA project and OpenSidewalks, and Geekwire published another piece showcasing connections made between Amazon reviews and food safety.
Crosscut concluded a very well-done 3 part series on Seattle's homeless.
The National Endowment for the Humanities awarded $179,000 to fund a 2017 summer institute focusing on western cultural conceptions of urban/nature dynamics by using Seattle's complex environmental history as a focal point to examine broader implications for global justice and health.
Urban@UW, the School of Public Health, UW Sustainability, College of Built Environments, and Undergraduate Academic Affairs are proud to be working with the University of Washington and the City of Auburn in the Livable City Year program. This new initiative combines the talents of civic and academic institutions to work collaboratively work towards actionable solutions.
The Department of Architecture's Chris Morris published an online book about Nordic lighting design during his Valle Fellowship in Scandinavia.
Urban@UW compiles monthly recaps highlighting the urban research happening across the University of Washington.