Published on September 28, 2020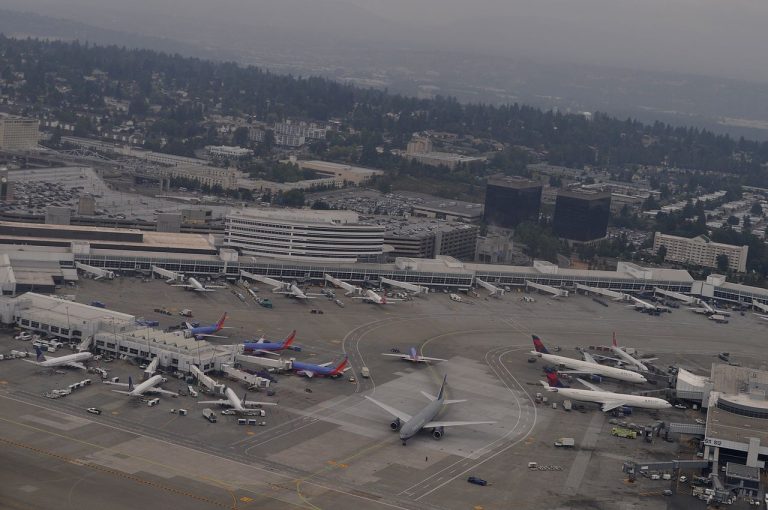 As massive clouds of smoke from wildfires throughout the region obscured the sky last week, SeaTac Deputy Mayor Peter Kwon filtered the air in his own home by attaching a furnace filter to a box fan and then duct-taping a triangular piece of cardboard over the gaps. When the air quality index (AQI) rose to 225 last week, Kwon said that his contraption reduced the living room to below 50 AQI.
The ultrafine particles from aviation and roadway traffic had long concerned Kwon, who lives about a half-mile from Seattle-Tacoma International Airport: While recent wildfires have forced residents across Western Washington to experience the hazards of poor air quality, Kwon and others who live in communities surrounding the airport say they'll continue to face a year-round threat to their air from aviation-related pollution.
Three months ago, Kwon joined three other residents who had installed air monitors on their properties near the airport by placing one outside of his home. Their findings, documented in the citizen-gathered Purple Air Map, came as no surprise to him: "The air quality around the airport is not as clean as areas farther away," he said.
He believes the addition of smoke pollution could form a toxic cocktail that would exacerbate respiratory diseases such as COVID-19. "One of the problems is that SeaTac has historically had poor air quality. So with the wildfires, the poor air quality has just skyrocketed," Kwon said.
As wildfires become more common along the West Coast, residents of airport communities such as SeaTac, Burien and Des Moines fear they will be harder hit by pollution. In the future, cities under flight paths will need to become "smoke ready," said Elena Austin, an assistant professor at the University of Washington's department of environmental and occupational health sciences. "But they're also going to have to develop ways to be resilient to the air and road traffic impact on their communities."
"The impact that's difficult for people living near the airport is that they already experience and perceive poorer air quality," said Austin. "So that creates challenges in a search for safe and healthy spaces."
Continue reading at The Seattle Times.
Originally written by
Melissa Hellmann
for
The Seattle Times
.