Published on September 29, 2020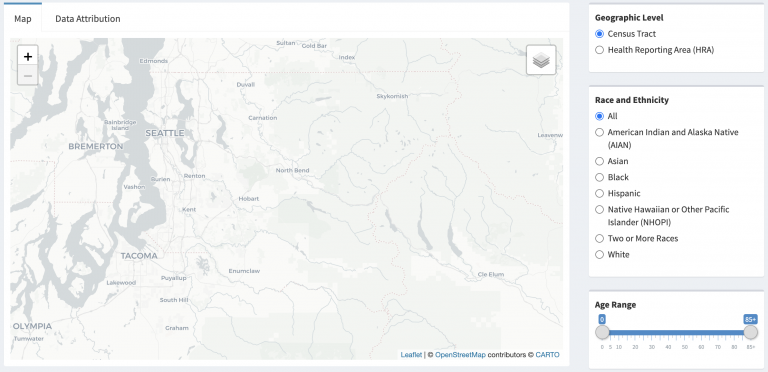 The 2020 Population Health Applied Research Fellows concluded their 10-week program to produce small area population forecasts at the Census tract and Health Reporting Area levels by sex, race, ethnicity and five-year age groups for King County from 2020 to 2045.
Their findings, which were presented to staff from a variety of King County departments, Washington State's Office of Financial Management and the Puget Sound Regional Council, will help fill a crucial information gap faced by policymakers and stakeholders about how local areas might change, particularly in terms of their racial and ethnic composition.
The fellows also developed an interactive visualization tool, which allows users to conduct their own, targeted analyses of projections by sex, age, race and ethnicity across small areas within King County. Given that decisions about locating resources often happen at the neighborhood level, the tool will offer a powerful means for local areas to meet the needs of diversifying populations.
The Applied Research Fellowship program was launched in 2019 to equip students with data analysis, critical thinking and team science skills to enable them to effectively tackle complex population health challenges and become future leaders in the field. The program is run by the Population Health Initiative in partnership with the University of Washington's Center for Studies in Demography & Ecology, and this year's project was developed together with the King County Demographer and Public Health – Seattle & King County. This year's cohort of fellows include graduate and undergraduate students from Geography, Germanics, Public Health, Social Work, Biochemistry, and Sociology.
Continue reading at Population Health News.