Published on November 23, 2020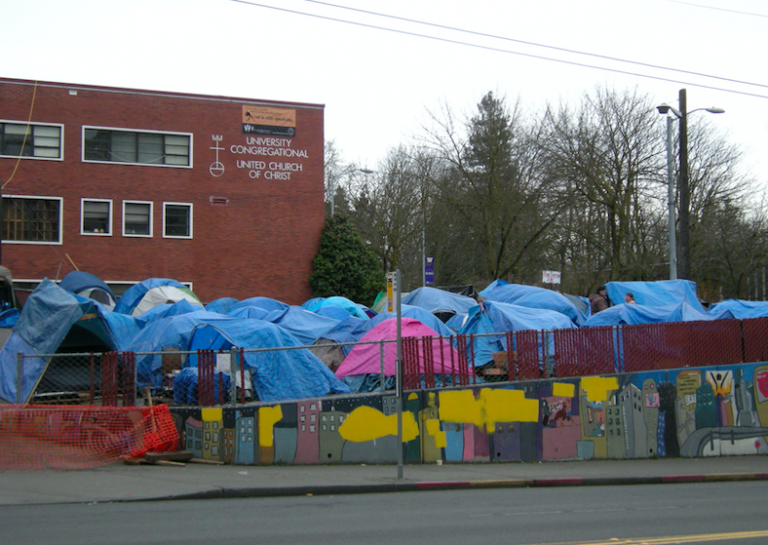 Homelessness is a crisis in Washington and across the U.S. Last year, an annual count revealed that in King County alone, 11,200 people reported being homeless at the time of the survey. The numbers have only increased during the pandemic.
As one part of its response to this population health crisis, the University of Washington will welcome back Tent City 3 — an organized tent-city community — on its Seattle campus for 90 days during winter quarter 2021. Move-in is scheduled to begin Dec. 19.
The UW previously hosted Tent City 3 in winter 2017, in the same location it will be next quarter: parking lot W35, situated between John M. Wallace Hall and the Fishery Sciences buildings off Northeast Pacific Street.
"Welcoming back Tent City 3 aligns with UW's public mission and its commitment to helping solve the challenges of our city, state and world," said Sally J. Clark, director of regional and community relations. "While organized tent cities are not a solution to homelessness, they do provide safe shelter while people seek out support on the road to stable housing."
Tent City 3 will provide safe, secure temporary housing for up to 70 people, while at UW. The number reflects a lower density to allow for social distancing and other COVID-19 precautions.
The renewed partnership results from engagement by the Tent City Collective — a group of UW students, alumni and Tent City 3 residents who have been working with faculty, academic departments and local civic leaders to bring Tent City 3 to the UW for a second time.
Continue reading at UW News.
Originally written by
Jackson Holtz
for
UW News
.