Published on May 5, 2020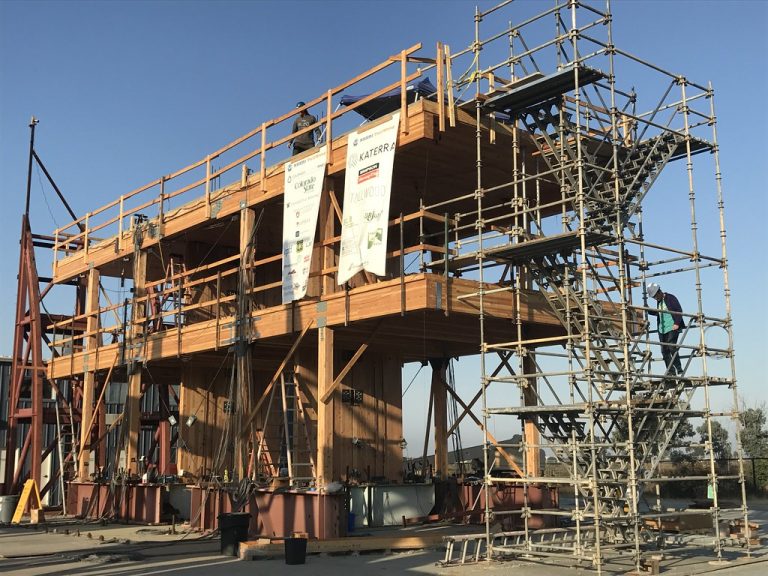 Last September, Washington Gov. Jay Inslee stepped to a lectern in a sprawling 270,000-square-foot factory outside Spokane and declared it the "best day so far" in his six years in office. Earlier that day, he had marched downtown as part of the youth-driven climate strike that united 4 million people worldwide. Now he was in nearby Spokane Valley, heralding a new factory with an innovative product that, he said, answered the "kids'" calls for climate action.
The plant — one of the largest of its kind in North America — produces today's hottest sustainable building material, called cross-laminated timber, or CLT. Rollers and lifts shuffle and stack lumber, feeding a giant press that glues the assembled boards to form immense 12-foot by 60-foot panels. With up to nine stacked layers, each laid perpendicular to its neighbors, the panels are stronger — pound for pound — than concrete. The multi-ton panels are then precision-cut to fashion them into floors and walls for office and apartment towers — pre-fabricated panels that will snap together at the construction site like Lego blocks.
"We need to be identifying pathways for radical reductions of emissions from building materials," says Kate Simonen, an architecture professor at the University of Washington who specializes in assessing the environmental impacts of building materials.
CLT is one possible pathway, but research published last year by Simonen and some University of Washington colleagues reveals several fault lines in the CLT carbon debate.
Simonen's co-lead on the Seattle tower comparison, University of Washington environmental and forest sciences associate professor Indroneil Ganguly, says leaving out biogenic carbon in life cycle assessment calculations remains a valid approach. That's because forests absorb and release carbon in a continuous cycle. And as long as the forest regrows, Ganguly says, there is no net release of biogenic carbon to the atmosphere.
Continue reading at UNDARK.
Originally written by
Peter Fairley
for
UNDARK
.