Published on October 18, 2018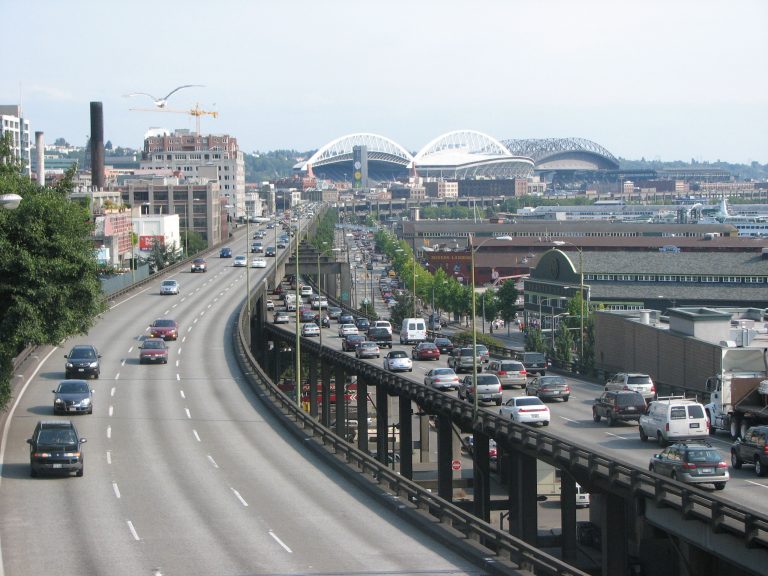 Seattle is doomed — at least in terms of its traffic for at least the next three years. Already, morning and evening gridlock seems to start earlier and end later. I-5 through downtown is nearly always jammed up. Overloaded buses wait through multiple light cycles attempting to inch through intersections at rush hour. And it's going to get worse. This year, we entered the "Period of Maximum Constraint," the city's euphemistic name for the time now through 2021, in which a series of events will compound Seattle's traffic problems.
In addition to existing traffic — about 47 percent of commuters drive alone — and construction projects, there are a few really big plans on the horizon that will truly gum up the works. In January, the Highway 99 viaduct will be closed for three weeks before the new replacement tunnel opens. Buses will be booted out of the downtown transit tunnel and onto surface streets as early as spring 2019 as part of Sound Transit's light rail expansion. The Convention Center expansion's massive construction site will block traffic lanes and create big headaches.
So what is a city to do? A group of three dozen University of Washington graduate and undergraduate students spent the past weekend trying to figure that out.
Put on by UW's CoMotion and sponsored by Challenge Seattle, an initiative by private sector CEOs to address the city's big problems, the Imagine Mobility Ideathon asked teams of students, majoring in everything from public policy to engineering to computer science to English, to come up with their best solution to help ease the pain of the Period of Maximum Constraint.
Modeled after a hackathon, the event had teams work Friday through Sunday interviewing Seattleites, gathering data, hearing from transportation experts, crafting their solution, and finally pitching it to a panel of judges that included Challenge Seattle CEO Christine Gregoire, former Washington State Department of Transportation director Paula Hammond, UW Vice President of Innovation and Professor in the Department of Electrical and Computer Engineering Vikram Jandhyala, Amazon Vice President Babak Parviz, and Commute Seattle director Jonathan Hopkins.
Continue reading at Crosscut
Originally posted on
Crosscut
by
Josh Cohen