Published on July 31, 2019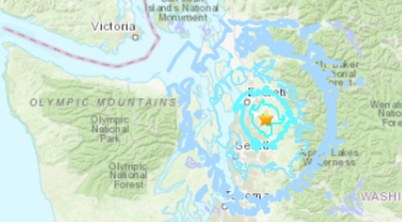 A magnitude 4.6 earthquake shook Seattle and the Puget Sound region at 2:51 a.m. Friday, according to the United States Geological Survey (USGS), rattling some people out of bed, while leaving other people blissfully dormant and unfazed.
The earthquake emanated from Three Lakes, Snohomish County, about 9 miles east of downtown Everett. The temblor raises the probability of a larger earthquake in the next few days, although the likelihood of a bigger quake is still very small, the USGS said. There is a 4% chance of a quake larger than Friday morning's within the next week, according to the USGS.
"There's an elevated possibility of a larger earthquake in the next few days, but it is very small and it shrinks quickly in time, too," said Paul Bodin, a University of Washington research professor in the department of Earth and Space Sciences and Network Manager of the Pacific Northwest Seismic Network. "So if there's nothing within a week, then the probability of it being in the next week is vanishingly small."
At most, the earthquake, nearly 18 miles below the earth's surface, lasted a "couple seconds," said Joan Gomberg, a USGS Research Geophysicist and Affiliate Professor in Earth and Space Sciences at UW, though shaking can feel longer "because some houses reverberate a little bit."
Continue reading at the Seattle Times.
Originally written by
Evan Bush
and
David Gutman
for the
Seattle Times
.