Published on May 2, 2023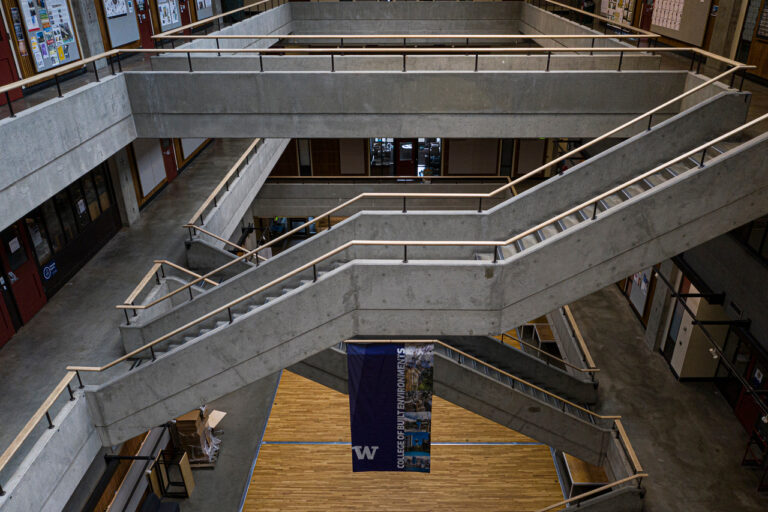 The College of Built Environments has announced that the 2023 PhD Symposium will be held on May 19.  Titled "Place, Space, and Belonging," the symposium will feature research from scholars around the world on topics such as phenomenology, environment, transportation, housing, and trauma-informed design. Attendees are invited to attend in person in Gould Court, or virtually.
In "Belonging, Equity and Inclusion," Dr. Davis Harte and Dr. Manish Chalana will discuss the importance of belonging, equity, and inclusion in the built environment and how architects and designers can create spaces that promote a sense of community and accessibility for all individuals. The "Climate Justice" session from Dr. Galia Shokry, Dr. Michael Mendes, and Dr. Hamil Pearsall will focus on climate justice and the need for equity in developing a sustainable future that is resilient to the impacts of climate change, including discussions on issues such as gentrification and fair sustainable development.
"Community and the New Normal" by Dr. Sicheng Wang, Shrobona Karkun-Sen, and Lamis Ashour will present their research on the changes in living, working, and commuting patterns post-pandemic and the persistence of long-standing inequalities in urban development that require attention. In "Housing Belonging and Dispossession, Dr. Teagen Cruwys and Dr. Raquel Rolnik will explore the growing conflict, politics, and economy around housing and why dispossession and the loss of home affects mental and physical health and social connection. And in the closing plenary, "Sense of Place/Phenomenology," Dr. Lynne Manzo, Dr. David Seamon, Dr. Jeff Malpas, and Dr. Edward Casey will offer their unique perspectives on the concept of a sense of place and the phenomenological approaches to place studies, exploring how individuals experience and relate to their environment and how this shapes their sense of place.
The event will be followed by a memorial event honoring Dr. Bob Mugerauer.
For more information and to register for the event, visit the event post.