Published on August 14, 2019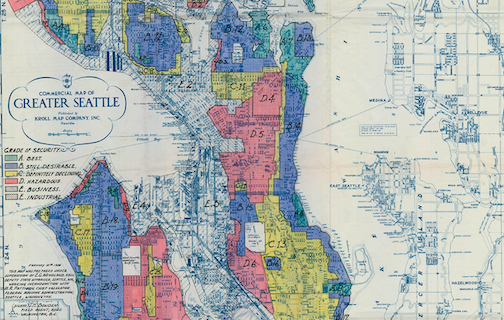 Warren Pope is hellbent on walloping the corneas of any Seattleite who believes this city is absolved from a racist past.
With "Warren Pope: Blood Lines, Time Lines, Red Lines," an exhibition running through Sept. 8 at the Northwest African American Museum (NAAM), the 72-year-old West Seattle artist says he yearns to expose how the residue of his city's historically discriminatory housing policies leak into the present day.
"I understand how immune the public has become when it comes to racial injustice. It's hard to turn anyone's heart with words these days," says Pope.
So he used metal wiring and canvas to construct three-dimensional images to represent tens of thousands of utterances and convey the home-loan restrictions of redlining, which segregated blacks, Jews, Asians and Hispanics into racially concentrated enclaves.
"Homeownership functioned as a generator of wealth for families, and when you artificially constricted blacks and other outgroups to certain areas you artificially constrict their ability to transfer wealth inter-generationally," says Jennifer Romich, Associate Professor of Social Work and Adjunct Associate Professor of Public Policy & Governance, who studies poverty and public policy.
Continue reading at The Seattle Times.
"Warren Pope: Blood Lines Time Lines Red Lines" will exhibit through Sept. 8 at the Northwest African American Museum, 2300 S. Massachusetts St.,  Seattle. Hours are 11 a.m. to 5.p.m. Wednesday, Friday, Saturday and Sunday; 11 a.m. to 7 p.m. Thursday. 
Originally written by
Marcus Harrison Green
for
The Seattle Times
.