Published on August 2, 2021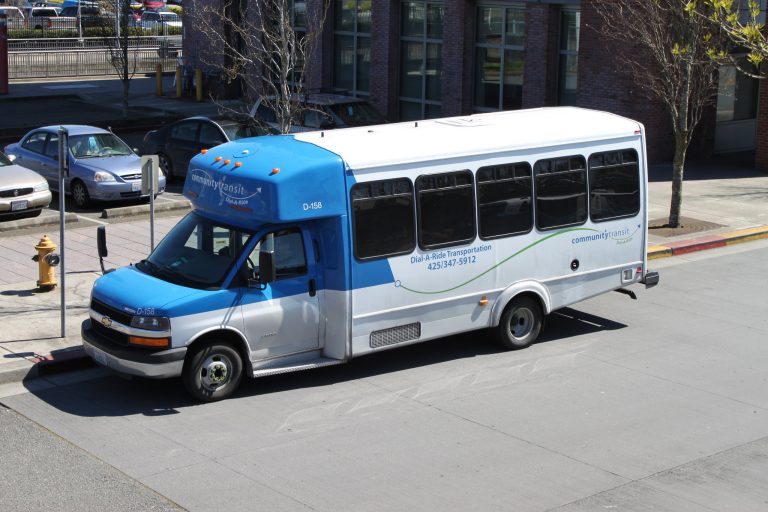 A new journal article titled, "Paratransit services for people with disabilities in the Seattle region during the COVID-19 pandemic: Lessons for recovery planning" co-written by Urban Design & Planning PhD students Lamis Abu Ashour, Xun Fang, and Yiyuan Wang; as well as Andrew Dannenberg, Affiliate Professor of Environmental and Occupational Health Sciences and Urban Design and Planning and Qing Shen, Professor of Urban Design and Planning,  was recently published in the Journal of Transport & Health. The article examines transit agencies' responses to provide paratransit services during the pandemic to inform planning for post-pandemic recovery and future disruptive events. Through semi-structured interviews with decision-makers, planners, and drivers working for King County Metro, researchers gathered insights about paratransit service throughout the pandemic and beyond. Read an excerpt of the article below.
The COVID-19 pandemic has severely disrupted transportation. It changed how much people move around, who stays at home, which trips to take, and perceptions of the safety of different transportation modes, leading to reduced overall transportation demand, especially for shared rides and public transport (Dixon, 2020; Ewoldsen, 2020; Hadjidemetriou et al., 2020; Nguyen et al., 2020). With reduced ridership, public transportation, including paratransit services, is faced with many operational and efficiency challenges (Huang et al., 2020). Paratransit, as specified by the Americans with Disabilities Act (ADA) in the United States, is an origin to destination service: passengers are picked up from their home locations and transported to their destination points on request, which usually is reserved by telephone (Thatcher and Gaffney, 1991; Minot, 2018; Gonzales et al., 2019). Pandemic-related measures adopted by transit agencies engender substantial changes in paratransit service delivery options and policy enforcement, as paratransit providers attempt to comply with ADA requirements while protecting the safety of riders and drivers.

ADA paratransit has long been challenged with an increasing demand for the service. Transit agencies obligated to comply with ADA paratransit regulations face considerable financial burdens due to high operational costs (Gibbs and Polan, 2016; Kaufman et al., 2016). Paratransit providers need to balance operational efficiency and service quality by adopting measures to reduce costs while maintaining equitable service (Burkhardt, 2010; Fei and Chen, 2015; Talley, 1990). The social and spatial equity goals of paratransit services are essential to ensure the inclusion of low-income communities, people of color, and people with limited English proficiency (Zhang et al., 2013).

During the pandemic, paratransit services experienced an unprecedented reduction in demand (Weiner and Armenta, 2020). Many paratransit riders chose not to travel due to concerns over public health, social distancing, and cancellation of activities and appointments for which they would have typically used paratransit services (Rudin Center and Sam Schwartz, 2020; Weiner and Armenta, 2020). This decrease in demand has facilitated transit agencies' response to the local and federal pandemic regulations by reducing vehicles' capacity, increasing sanitization measures, suspending in-person eligibility assessments, and incorporating new services such as food delivery. Pandemic-related measures challenge transit agencies' ability to maintain safe, equitable, and effective services for people with disabilities (Abdullah et al., 2020).
Continue reading at ScienceDirect. 
Originally written by Lamis Abu Ashour, et al., for the
Journal of Transport & Health.