Published on March 9, 2022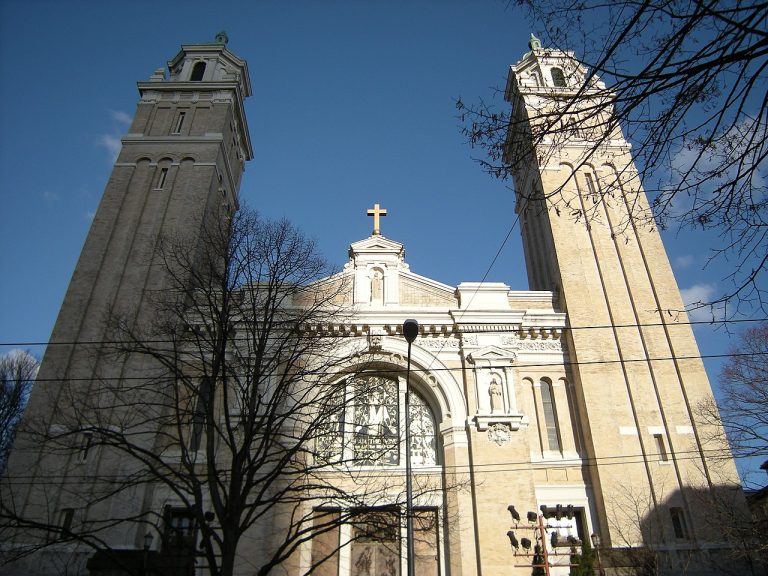 One of the biggest winter storms to strike the Northwest arrived 106 years ago this week. Though it wasn't as intense as the Big Snow of 1880, the February 1916 storm nearly destroyed one of Seattle's earliest landmarks.
One of the places where that heavy wet snow really took a toll was at St. James Cathedral on First Hill in Seattle. The cathedral had been completed in time for Christmas 1907, and it was a massive landmark that dominated the skyline in the days before the Smith Tower. When the cathedral debuted, along with its distinctive matching bell towers, it also had a dome. And it was this architectural feature of the cathedral which did not survive the Big Snow of 1916.
Back in the ceiling at St. James, Corinna Laughlin described what happened during the Big Snow of 1916.
"The snow piled up around the base of the dome," she said. "They say it snowed continuously for something like 27 hours that year, and just the sheer weight of all that wet snow brought the dome crashing to the floor" just after 3 p.m.
Jeff Berman is a professor in civil engineering at the University of Washington. He says that steel manufacturing hadn't been perfected yet in 1907, and quality control hadn't quite made wide-scale consistent production of industrial-grade steel possible. Some of the articles in old newspapers and engineering journals published not long after the collapse single out a failed steel truss that was found in the rubble.
Some of the reportage also points to possible disconnects between the New York blueprints from the famous architectural firm of Heins & LaFarge who designed St. James, and the local construction crews who were tasked with building something more complex than just about any other structure within hundreds of miles of Seattle.
But, Professor Berman says, the main culprit definitely was all that snow.
"They actually weighed the snow after the collapse and concluded that it was very heavy snow because it was saturated with rain, which makes a lot of sense," Berman said. "If you're a skier, you know this quite well, right? 'Cascade concrete.'"
Berman says there's actually a term used to describe the condition of snow that's been made heavier by absorbing rain – it's called the "rain on snow surcharge" – and jurisdictions in areas where snow and rain conditions are common adapt their local building codes to take this surcharge into account.
Continue reading at My Northwest. 
Originally written by Feliks Banel for MyNorthwest.