Published on June 8, 2022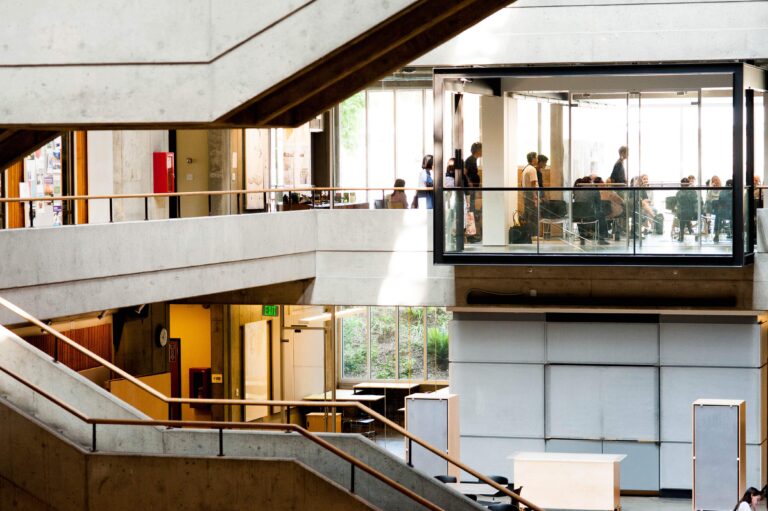 "For a small college, CBE has a broad range of research paradigms, from history and arts, to social science and engineering." — Carrie Sturts Dossick, Associate Dean of Research
Upon taking on the role of Associate Dean of Research, Carrie Sturts Dossick, professor in the Department of Construction Management, undertook listening sessions to learn about the research needs of faculty, staff and students across the College of Built Environments (CBE). Housing five departments–Architecture, Construction Management, Landscape Architecture, Real Estate, and Urban Design and Planning–CBE's research portfolio is incredibly diverse, in terms of both topics as well as methodologies. These listening sessions did, however, elucidate some common needs. Also informed by insights from CBE's strategic planning process which took place 2019-2021, the CBE Office of Research, led by Dossick, took steps in winter 2021 to address one of the most pressing needs: funding. 
In January 2021, the College of Built Environments launched its new CBE Inspire Fund to "inspire" CBE research activities that are often underfunded, but for which a relatively small amount of support can be transformative. Funded partially by the recovery of indirect costs on the college's funded research projects, as well as by other funds designated to broadly build CBE research capacity, the Inspire Fund aims to support research where arts and humanities disciplines are centered, and community partners are engaged in substantive ways. Inspire Fund is also meant to support 'seed' projects, where a small investment in early research efforts may serve as a powerful lever for future research–and future funding.
In the 2021-2 round of the CBE Inspire Fund, six grants were awarded to PIs hailing from four departments across the College of Built Environments. The awardees engaged with a range of topics including sustainability; diversity, equity & justice; community advocacy & empowerment; and community health. The results of these projects point to the salient impacts of the Inspire Fund, achieving intertwining goals around humanities and arts; community engagement; and seed support to launch bigger projects. 
Notably, the fund has empowered the work of student researchers, scholars navigating early career development and community partners in their existing work. In nearly every project from the inaugural cohort, the Inspire Fund directly supported the contributions of student researchers within the College of Built Environments. 
In a project led by Tyler Sprague, associate professor in the Department of Architecture, and collaborators Eugenia Woo, Susan Boyle, & Kelly Daviduke, the Inspire Fund helped to foster a new and emerging BIPOC scholar in architectural history, Sierra Miles, in their work revealing and celebrating the legacy of Benjamin McAdoo, the first licensed Black architect in Washington State. With the Inspire Fund's support, the project was able to highlight underrepresented voices in built environments fields both in scholarship and research topic. This work also changes the paradigm for architectural history by using a research consortium approach.  
For Ann C. Huppert, associate professor in the Department of Architecture, the Inspire Fund allowed her to reactivate her research in architectural history. This included making progress on two related book-length projects,  Building Knowledge: The Culture of Construction in Sixteenth-Century Rome and, in collaboration with historian, Pamela O. Long, Constructing the Church of Il Gesù in Rome. Outcomes from this Inspire Fund-supported work include, thus far, multiple past and upcoming conference presentations and publications. She was also awarded a Visiting Senior Fellowship at the Center for Advanced Study in the Visual Arts where she intends to complete a chapter of her book on construction in sixteenth-century Rome focused on the construction of the Farnese Palace. 
The inaugural cycle of Inspire Funds also enabled pursuits of larger funding opportunities and built capacity for lasting collaborative partnerships. In the case of Hyun Woo "Chris" Lee, associate professor in the department of Construction Management, and Yohan Min, PhD candidate, the fund enabled the team to pursue preliminary research on energy vulnerability that is already leading to larger grants and supported Min in his phd. dissertation. 
In a project titled Mapping Energy Equity led by Teresa Moroseos, postdoctoral scholar in the Integrated Design Lab, in collaboration with James "Lamar" Foster, PhD candidate with UW's College of Education and research fellow with UW's eScience Institute, and Christopher Meek, associate professor in the Department of Architecture and director of the Integrated Design Lab, a salient impact of the grant was the building of partnerships across UW labs and centers, which has strengthened capacity for future interdisciplinary work. The team also acknowledged how the contributions of collaborators at the eScience Institute was essential to this research and valuable in strengthening research networks. 
For Keith Harris, lecturer with the Department of Urban Design and Planning and affiliate with Landscape Architecture, and student collaborators Shannon Tyman, Aisling Doyle-Wade, Jude Brown, Lamis Ashour, and Talia Kertsman, the Inspire Fund allowed the team to continue building relationships with community partners at the Capitol Hill EcoDistrict, Black Star Farmers, and the Black Lives Memorial Garden. The team's research on community health will be extended through these continued partnerships and several student projects, including working with Black Star Farmers as they work on the garden. 
In light of the COVID-19 pandemic and associated barriers and disruptions, the flexibility of Inspire Fund to account for extensions and revised scope of work has been critical to several impacted projects. In their work on mapping cultural spaces, Rachel Berney, associate professor in the Department of Urban Design and Planning, Jess Zimbabwe, adjunct instructor in the Department of Urban Design & Planning, and Shuxuan Zhou, Senior Researcher, City of Seattle Racial Equity Lab, were supported with a one-year extension where a revised scope of work will allow them to synthesize the results of their research and pursue several publication opportunities. In this project, Berney, Zimbabwe, and Zhou worked with a team of student researchers including former CEP students, Andrea Sebastian & Lexie Abrahamian, and Kaleb Germinaro & Kayla Chui, PhD candidates with the UW's College of Education.
The inaugural cohort's work is reflective of some of the ways the Inspire Fund can substantively support researchers and their efforts. This work has trained students in research methods and techniques for community-engaged scholarship.  This work challenges paradigms and assumptions about how we do our research, who is included, and what research products and impacts look like.  
Continue reading at the College of Built Environments.