Dear Urban@UW community,
As we all navigate these unprecedented times with the COVID-19 pandemic exacerbating our societies' chronic afflictions of racism and inequality, it has never been more clear that urban systems play an outsized role in the fate of our communities and our planet. Urban@UW is honored to have spent another impactful year engaging with scholars and community partners to examine some of the critical questions surrounding urban systems.
Leadership Thank Yous and Welcomes
We are excited about our growing partnership with the College of Built Environments, and in 2019-20 we worked closely with CBE leadership as well as the Office of Research on ways to continue serving our mission of cross-university collaboration for sustainable and just cities. Urban@UW faculty co-chairs, Scott Allard with the Evans School of Public Policy and Governance, and Susan Kemp with the School of Social Work, were essential leaders for this work in the past year as we collectively navigated new ideas and the beginning of the pandemic. We are grateful for their vision and their dedication to the program.
In 2020-1, we welcome the Department of Landscape Architecture's Ken Yocom as interim Faculty Director. As newly appointed Director, Jen is working with Ken to oversee the mission and operation of this nimble transdisciplinary initiative. Additionally, Jen is serving in this capacity alongside her new role as Assistant Dean for Research for the College of Built Environments, a combination that we expect to lead to rich research opportunities for both programs.
Urban Environmental Justice
We kicked off the academic year with a workshop bringing people from around the country to discuss gentrification, green infrastructure, and anti-displacement strategies. Sustaining Communities, supported through our Urban Environmental Justice Initiative in partnership with the City of Seattle, as well as the Emerald Corridor Collaboratory, included incredible talks from scholars and practitioners working closely together to define and amplify community-based strategies for neighborhood resilience. Presentations, publications, projects, and biographies are all found here.

Researchers and practitioners engage on the topic of sustainable communities, September 2019. Image credit: Jen Davison
Other efforts this year under Urban@UW's Urban Environmental Justice Initiative, led by professor Ken Yocom, include multiple projects and ongoing dialogue with many community partners in the neighborhoods of South Seattle, and work with the Duwamish Tribe on long-term strategies for campus development. We also collaborated with the College of the Environment's Diversity, Equity and Inclusion office in their leadership on Earth Day and an Environmental Justice Conference.
Livable Cities
The Emerald Corridor Collaboratory–a Bullitt Foundation-funded initiative led by Urban@UW in partnership with the Institute for Sustainable Solutions at Portland State University, the Sustainability Initiative at University of British Columbia, and the Sustainable Communities Initiative at Western Washington University, in partnership with the cities hosting these institutions–was launched in 2018 to examine and build on city-university partnerships in order to improve sustainability and equity in cities. Our pilot projects, workshops and other research activities led to collective insights about city-university partnerships which you can read about here.
Also funded by the Bullitt Foundation, Urban@UW led the Right of Way project to examine scenarios for community-driven innovations to public space. This partnership between UW, the public sector and the private sector, led to important insights not only for rights of way but for partnerships of this kind as well. We were pleased to share our report with the Bullitt Foundation at the beginning of the COVID-19 pandemic as the City of Seattle called for new ideas for utilizing the right of way.
Homelessness and Housing
Urban@UW continued support of projects under its Homelessness Research Initiative, co-led by Runstad Department of Real Estate's Gregg Colburn and Evans School's Rachel Fyall. This includes a collaboration with King County to understand the impacts to homeless people of the pandemic-driven housing of populations in hotels and motels; and a regional partnership to re-envision land-use planning for housing affordability. The Doorway Project, led by Psychiatry and Behavioral Sciences professor Seema Clifasefi in partnership with U District service providers to engage homelessness-involved young people, has completed another meaningful year. We are also glad to support the Nehemiah Initiative, a community-centered project seeking to assist those facing the effects of rising costs and gentrification to combat displacement in Seattle's rapidly changing Central District.
Urban@UW Spark Grants
Urban@UW is pleased to have launched our Spark Grants program. Conceived to support new scholarship in emerging urban challenges and solutions, we awarded funds to two projects for this academic year, both of which are working closely with community to address key urban challenges. We look forward to sharing updates on these projects as the year progresses.
Responsive Support for Urban Research and Practice
Along with focused investment under our initiatives, Urban@UW continues to facilitate connections with efforts across campus. We are collaborating with the Center for Global Mental Health, the Population Health Initiative, and citiesRISE to develop understanding and a research agenda for mental health for young people in cities. We supported an analysis of Livable City Year as an example of community-university partnerships (read the published results here). We were pleased to support the West Coast Poverty Center's annual summit that focused on "neighborhood effects: re-thinking place, equity, and opportunity in a rapidly changing landscape". As well, we provided support for equity and affordability conversations at the Society for Architectural History's annual conference. We have been supporters of EarthLab's Lunch and Learn series on collaborative research. We continue to partner with the Center for Studies in Demography and Ecology for the UW Data Collaborative. We also participated in an NSF workshop exploring sustainable urban systems, the reports from which can be found here.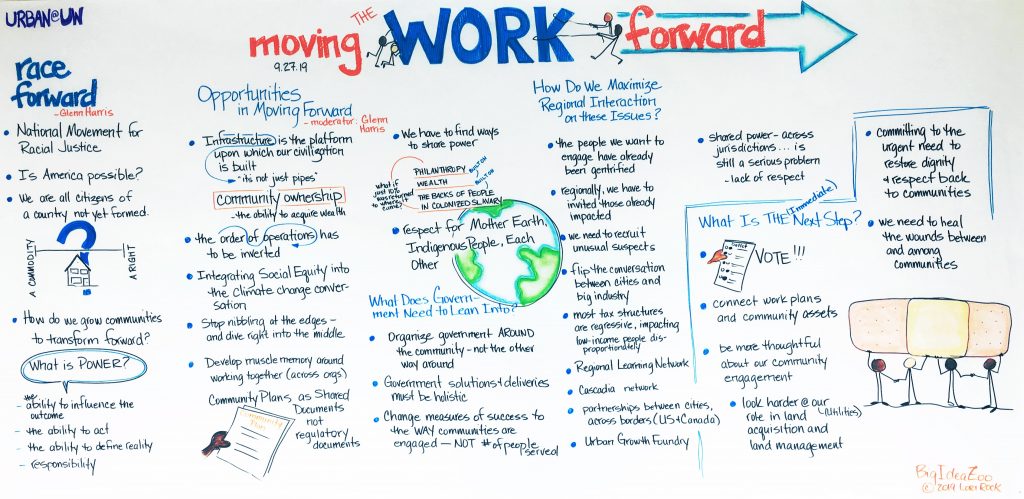 Graphic illustration from the Sustaining Communities event, September 2019. Image credit: Lori Rock, BigIdeaZoo.

Communicating our Collective Work
Urban@UW has been committed to telling the stories of urban scholarship from around the university and across the world. This year we shared over 220 stories on our website, featuring over 20 UW units from all three campuses and spanning topics from arts and culture to food and water security. Our communications team also published a breadth of original stories:
In the coming year we look forward to continuing our support of urban scholarship and practice, and we want to thank each of you for your leadership and contributions to this collective effort. If we work together we can create a more just and sustainable world, a world that is urgently needed. We look forward to continuing this work with you.
Sincerely,
Jen Davison, Director; Assistant Dean for Research, College of Built Environments
Ken Yocom, Interim Faculty Director; Department of Landscape Architecture
Scott Allard, Evans School of Public Policy and Governance
Gregg Colburn, Runstad Department of Real Estate
Rachel Fyall, Evans School of Public Policy and Governance
Susan Kemp, School of Social Work
Radha Poovendran, School of Electrical and Computer Engineering